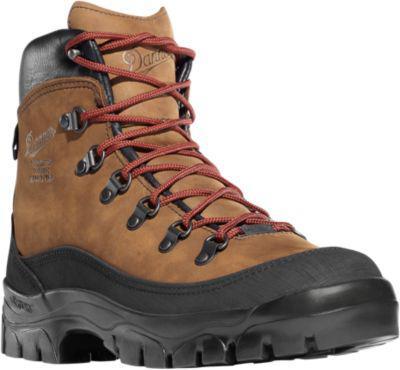 There are a lot of companies that make hiking boots these days, many of which have no business doing so. They stock their line-up with way too many options and colors and they seem more designed for fashion than function. That isn't the case with Danner however, a company that has been around for 80 years and has maintained a reputation for creating boots that are durable, rugged and comfortable even in the most challenging of conditions.
I recently received a pair of the company's new top-of-the-line Crater Rim hiking boots and to be honest, I was a bit underwhelmed when I first took them out of the box. With their simple, classic design these boots don't look much different than something you would have found on store shelves twenty years ago, although that isn't necessarily a bad thing. In terms of looks, this is the quintessential hiking boot, but when you're use to testing shoes that come in increasingly unique colors and designs, the Crater Rim did little to set itself apart.
Of course, I'm of the mind that looks don't mean much in a hiking boot, it's performance on the trail that really matters. With that in mind, I was eager to slip into these boots and take them for a test drive. When I did that however, I was once again a bit underwhelmed. The boots were a bit stiff and they felt somewhat cumbersome on my feet, for lack of a better word. As I walked around my apartment testing them out for the first time, I wasn't sure what to make of these boots with the unassuming looks and the uncompromising fit.
Then a funny thing happened. The longer I wore them the more they started to feel good on my feet. The nubuc leather began to loosen up just enough and my pair of Crater Rims started to become more flexible.  Even better, it felt like they were cradling my feet quite nicely and before I knew it was enjoying these new boots more than I had initially thought possible. By the time I drove to the trail I was more than ready for a good long hike.
While on that hike Danner's hand crafted boots, put together in their Portland factory, continued to impress. The thick soles – the same ones that I found cumbersome not long before – proved to be a great at protecting my feet on the rocky Texas trails and the waterproof Gore-Tex liner remained highly breathable, keeping my feet dry throughout the day. The only hitch in the entire trek was that the boot rubbed my ankles in the early miles of the hike, although like the rest of the boot that loosened up over time.
Make no mistake, Danner's Crater Rim boots are a hard core option for those who demand a lot out of their boots, Their rugged looks are not just for show and the boots have worn very well even after a number of hikes. My pair still look practically new, which bodes well for their longterm health. Be warned, the boots do come with a hard core price tag as well. Ringing in at $300, they may be a bit more expensive than most people want to pay, but from my experience they are worth the money. After all, they're made by hand, right here in the U.S. and the quality shines through.
Whenever I test a new pair of boots I invariably compare them to my favorite pair of Asolos that have accompanied me on trips to Everest, Kilimanjaro and beyond. Those boots are comfortable and very durable and love the way they feel on my feet. They also happen to cost less than the Crater Rims. That said, this is the first pair of boots I've found in years that can actually perform on the same level of those boots and may actually surpass them for long term durability. I'll need to wear them on a few globe trotting adventures to be sure, but at this point I have a really great feeling about that.
If you're in the market for a new pair of hiking boots, and you're looking for something that can handle just about anything you throw at them, then look no further than the Crater Rim by Danner. Quality costs money but it'll also pay off over the lifespan of the shoes, and your feet will thank you on your next long distance trek.
Just don't let your initial impressions turn you off to these boots. This is definitely a case of not judging a book by its cover. Great boots for great adventures!