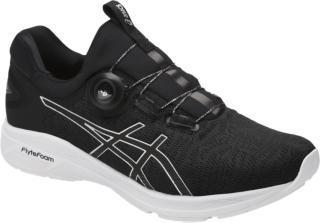 The
Boa Lacing System
has been around for a number of years now, delivering a unique way to keep our boots and shoes locked into place without using traditional shoelaces. The system first debuted in snowboard boots more than a decade ago, and since then it has made its way into a variety of other footwear, including hiking boots, cycling shoes, and even golf shoes. Now, Boa has created a whole new version of its product designed specifically for runners as well. This version of the lacing system eschews the use of steel cables in favor of laces made from Dyneema instead. This material is incredibly durable and tough, yet lightweight, making it a great choice for footwear meant to go fast.
One of the first companies to adopt the new Boa running shoe laces is
Asics
, which has introduced models for both the trail and the road. The new GEL-Fujirado is meant for off-road running, while the Dynamis is its road-focused counterpart. Recently, I've been running in that shoe and have found it to be comfortable, nimble, and fast, all of which are qualities that any runner can appreciate.
Lightweight, yet not a minimalist shoe, the Dynamis features Asics Flytefoam technology, which is used in the sole of the shoe to provide plenty of energy return while running. This proprietary cushioning offers plenty of support and protection for the foot, while remaining durable and resilient throughout. I've probably put about 150 miles on my pair of Dynamis shoes so far, and they not only continue to keep my legs fresh and spry, but they shoe still looks like it just came out of the box. This isn't uncommon with my road running footwear however, as I often run through the soles long before I wear out any other part of the shoe.
Other nice features that I appreciate on the Dynamis include its removable Ortholite sockliner, which has kept my foot comfortable and dry on all but the hottest and muggiest days of summer in American south. The liner is very breathable and absorbs moisture nicely, but it doesn't hold on to it for long, allowing it to dry out quickly. The running shoe was also made with a seamless construction method to reduce the potential for blisters and hotspots, and Asics' High Abrasion Rubber outsole, which further reduces wear and tear on the shoe.
But, the real star of these shoes is the Boa Lacing System. For those who haven't ever used it in the past, it is a simple, but highly effective way to keep your footwear locked in place. The system is made up of three parts, the dial, the lace guides, and the laces themselves. In this case, the Dyneema laces run through the guides and into the dial, which is connected to the side of the shoe. To tighten the laces you simply push down on the dial to snap it into place, then turn it, which provides tension to the laces, tightening the show around your foot. The process is incredibly quick and efficient, and once you've found your desired level of fit, you simply forget about it and go. At the end of your workout when you're ready to take the shoes off, you simply pull up on the dial, which causes it to release the tension and allows your foot to quickly and easily slip free.
One of my biggest pet peeves about any running shoe that I wear is that the laces can come untied or simply loosen up, during a run, particularly when they get wet. That was never an issue with the Boa system however, which stayed firmly in place until I wanted to release them. As someone who likes his shoes to fit snugly on his feet, and doesn't like to have to mess with his laces, the Dynamis turned out to be a great option. Not once did they loosen up on me mid-run, nor did I ever have to mess with them once I got moving. That "set and forget" mentality is part of what makes Boa special, whether it is on a pair of running shoes, hiking boots, or anything else.
I found the Asic Dynamis to fit true to size, so you can likely rest assured that if you pick up a pair, you can get them in the same size as you normally wear. Another pair of running shoes that I've been testing lately has run on the small size, leaving my foot a bit cramped and sore. Thankfully, that wasn't the case here, as I experienced no discomfort, hot spots, or blisters at all.
Priced at $160, the Dynamis is definitely aimed at a higher end market for runners. The Boa Lacing System adds a bit to that price, as incorporating it into a shoe requires more of a commitment than simply purchasing a set of shoe laces. Personally, I think that the inclusion of the Boa laces is a fantastic addition, and I'm glad to see its making a proper return to running shoes. Others may not find that it is worth the extra money, but if you're like me and enjoy having your footwear stay firmly in place, it is definitely a godsend. It is going to be tough to go back to a pair of running shoes that don't use Boa in the future, as it has spoiled me moving forward.
Find out more about the Dynamis on Asics' website.