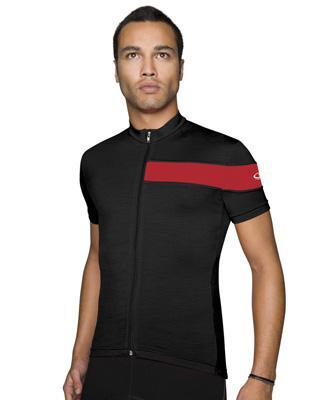 Ahh... spring time. When the flowers are in bloom, the sun begins to warm the earth, and a young man's heart turns to the open road. We may yet be a few days from the first official day of spring, but where I live it is already starting to get warm. And now that we're back to longer days once again, I find my road bike is frequently calling my name, and the urge to peddle has overcome me once again. Fortunately, I have some stylish new gear to hit the road in this spring thanks to a new line of cycling gear from Icebreaker.
For those not familiar with Icebreaker, they're an apparel company that makes incredibly comfortable and good looking clothing for a variety of outdoor pursuits. That gear is made from merino wool, which is light, breathable, natural, and oh-so nice to wear. Last year, at the Summer Outdoor Retailer show, Icebreaker announced that they were getting into the cycling market, with a line of gear for both road and mountain bikers. I had been looking forward to trying out the gear ever since.
Awhile back, Icebreaker was kind enough to send me one of their Circuit Jerseys and a pair of Cadence Shorts to take for a spin. They were also generous enough to share a woman's Rhythm Jersey and a pair of Halo Shorts for my riding partner. The first thing we both noticed about the gear was how stylish and well designed they were. Now, I'm not generally all that fashionable, on or off the bike, but my partner has a sense of style all her own, and what ever she wears has to look good. The Icebreaker designs not only met, but exceeded her high expectations. She was delighted with the way the jersey looked, and was very happy with the shorts as well. Me, I just want it to be functional and comfortable. Needless to say, I was more than satisfied as well.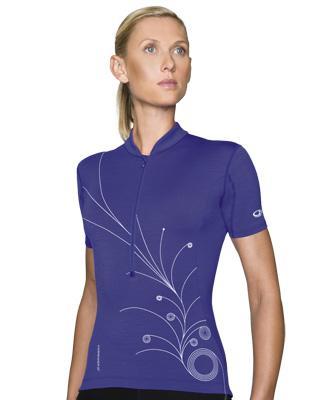 As you would expect, both the Circuit and Rhythm Jerseys are form fitting to help limit drag and resistance out on the road. They're made of a combination of Icebreaker's patented merino wool and Lycra, which helps them to be more breathable and to dry faster as well. In both regards, I was impressed with the performance of the jersey, as they wick moisture away from the body and keep you dry while riding. They're also just as comfortable when you stop riding, and the quick drying times make them easy to wear while while off the bike as well.
I also appreciated the large cargo pockets on the back of the Circuit Jersey as well. While I keep my water bottles in frame-mounted cages on my bike, those pockets are great for storing an energy bar and a cell phone. The zippered rear pocket is also much appreciated, as it is a great place to keep your keys, wallet, or other items you don't want to lose. One thing is clear, Icebreaker put a lot of thought into the design elements of their cycling gear.
Of course, every cyclist knows that while a jersey is important to your comfort out on the road, and it doesn't hurt that it looks good too, it is your riding shorts that make all the difference in the enjoyment of your ride. Much like their jerseys, the Icebreaker cycling shorts don't disappoint either, with plenty of comfort as well. Like all cycling shorts, the Cadence are very form fitting, and yet they are not at all restrictive to your movement. They come with a built in chamois pad that is large and super-comfy. In fact, I have to say that these just might be the most comfortable cycling shorts I've ever worn, and they're perfect for those first few rides of the year. You know, the ones that leave you a little more saddle-sore while you get back into cycling shape.
After spending a few days on the road with this gear, it is clear that Icebreaker really does have a hit on their hands. Both the shorts and jerseys that my riding partner and I test were incredibly comfortable, especially in the cooler (and windier!) temps of the early part of the year. The GT Bike line of gear definitely gets an enthusiastic thumbs up from both of us, and we're now looking forward to trying out Icebreaker's mountain bike line as well. This is a very impressive entry into the cycling market, and a welcome one to be sure. If you're looking for some great spring cycling gear, then look no further than the Icebreaker line. I think you'll be as impressed as I am. Excellent gear for your long rides.
MSRP: Circuit Jersey $140; Rhythm Jersey $130; Cadence and Halo Shorts $160
Check out other Icebreaker gear at TravelCountry.com