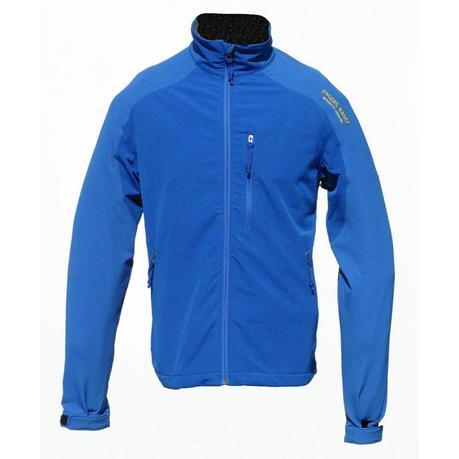 Brooks Range is one of those gear companies that knows its market and knows it well. They make a very nice, albeit limited, line of outdoor gear that is high in quality, well designed, and very affordable. Their small catalog of products keeps the company focused and agile, continually delivering gear that performs well in a variety of settings and conditions.
That same philosophy is on display with Brooks Range's newest lightweight, softshell jacket, the Isto. The Isto is built for active pursuits, and incorporates four-way stretch fabrics to keep you moving without restricting motion. Those same fabrics are comfortable and breathable, making this jacket ideal for aerobic activities. Something I forgot about when I first put it on.
You see, the Isto is quite lightweight, and the first time I put it on, I was surprised to find that it wasn't quite as warm as I had expected. But then I started to move, and in the process, started to warm up as well. Taking an early morning hike with the Isto soon showed off its strengths, as it clearly keeps you plenty warm when used in active pursuits. In fact, it is the perfect weight for hiking, climbing, trail running, or just about any other outdoor endeavor in cool weather.
Brooks Range knows that one of the most important aspects of any piece of  active apparel is that it fits well and moves with the person wearing it. With that in mind, they've incorporated drawstrings into the hem that allow you to adjust the fit to your needs. The cuffs also use high quality velcro to seal snugly around the wrists, and the main zipper easily glides up the front, closing off the comfortable collar. The jacket also includes three pockets – one large one on the chest and two others for the hands. All three are ample in size and can be zippered shut, keeping contents safe and sound inside. An interior pocket is sadly missing, as I always appreciate the option for keeping small items on the inside of my jacket.
After owning the Isto for a few weeks, I found myself grabbing it without thinking as I headed out the door each morning, even if I was just running errands around town. Thats when I realized how much I liked this jacket. It is comfortable, fits well, and is a great option for active days on the trail. It comes in four different colors and would make a great holiday gift for someone on your list. With an MSRP of just $100, it won't break the bank either.