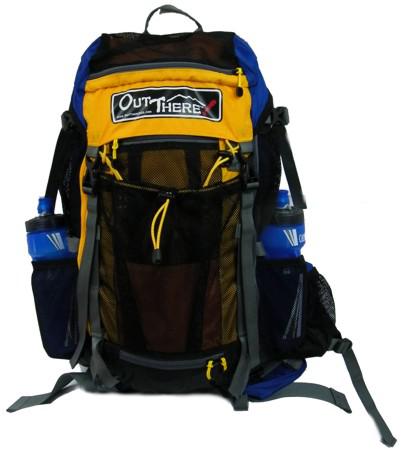 When you want to build a house, you hire an architect. When you want to design an airplane, you get an aeronautical engineer. It only makes sense that if  you want the best backpack possible for adventure racing, you go to the best adventure racer ever.
With three Eco-Challenge wins, five Primal Quest titles, and four world championships to his name, Mike Kloser has an adventure racing resume that few can match. He has years of experience in races of various lengths and in various environments, and he has taken all of that knowledge and channeled it into an amazing backpack that will appeal not only to multi-sport athletes, but hikers and travelers as well.
Mike's AS-1 Pack comes to us from his fledgling company Out There! and it brings with it a host of features that are sure to make it a hit with the AR crowd. As you would expect from a pack designed by an adventure racer, the AS-1 is not only tough and durable, but it is also lightweight and comfortable as well. In fact, after spending hours on the trail with this pack, I can honestly say it is one of the most comfortable packs of its size that I have ever used. The back panel is well padded and offers good ventilation, which aids in keeping you cool while on the move, and well placed hip pouches keep snacks or other small gear items close at hand at all times. Those same pouches can be easily removed if necessary, which only begins to hint at the level of versatility found in this pack.
Made from water resistant materials, the AS-1 provides 30 liters of internal storage with another 10 liters of external capacity. A unique double cinch system helps to keep moisture out of the inside of the pack, keeping gear dry in poor weather conditions. Two hydration bladder pockets, one internal one external, offer versatility for carrying your water supply and four(!) bottle holsters make it easy to expand that capacity further.
The versatility extends to adjusting the pack's fit as well. The shoulder and chest straps are a snap to adjust to match your personal comfort, and the waist belt can be easily slid and modified to fit your needs as well. High quality buckles and clasps hold everything in place, even while carrying a full load, and in my testing of the AS-1, once I locked in the fit, it stayed exactly where I wanted it at all times.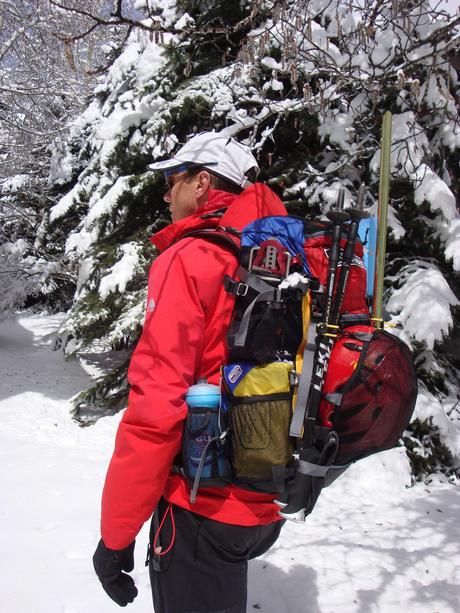 The list of features on the AS-1 goes on and on. plenty of storage pockets in various sizes, ice axe/trekking pole loops, side compression straps that can be used to carry skis or a snowboard, integrated emergency whistle, and more. In short, just about everything that the outdoor enthusiast could possibly want out of a pack, save the kitchen sink.
There were a lot of things that I really liked about the AS-1, but I think the variety of storage options and easy of access to your gear is probably what impressed me the most. For instance, their are two zippered pockets in the pack's hood alone, with a variety of others hidden away throughout the design. There are so many cleverly integrated pockets in fact, that you may use the pack three or four times before you discover them all. It is all of this storage and organization that will make this a popular pack not just with adventure racers, but active travelers as well. Heck, I found at least three places to store my laptop alone.
Built from the ground up for the sport of adventure racing, I believe that this is, without a doubt, the best available pack for that sport. Mike knows full well what is needed – and what isn't – out of a high performance pack on a multi-day race, and the results shine through in the AS-1. Small touches, like quick and easy access to all your gear, at all times, is the kind of detail that you don't get out of a pack designed by someone who has never competed in the sport.
But one word that I've used often in this review is "versatility," and it is the characteristic that will make this bag popular with people who have no intention of ever entering an adventure race. The AS-1 may have been built for AR, but that doesn't mean it isn't a great option for hikers, travelers, backcountry skiers, or just about anyone else who plays in the outdoors. Its versatility will make this pack the first choice on many future adventures for me, with only it's size limiting it for longer term forays into the backcountry.
As you can probably tell, I was highly impressed with the AS-1 and think that you will be too. From its high quality construction to its exceptional comfort, this pack was a delight to use, and whether you're planning your first adventure race or preparing for a trek in the Andes, the AS-1 is a perfect companion on what ever adventures  you have in your future. (MSRP: $189)