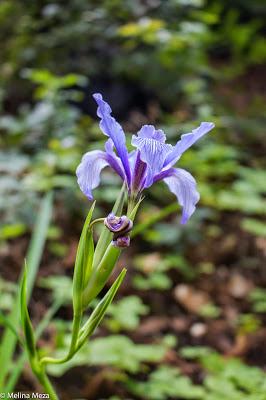 Young & Old Irises by Melina Meza
Q: Dear Baxter, you're not that old yet—or at least you don't look it! So I was wondering why you decided to make yoga for healthy aging your area of specialty.
A: It is always hard for me to tell if I choose my specialty or the specialty chooses me! When I was in medical school, I thought I was going to choose to do a surgical specialty, as I was good with my hands and there was a kind of mystic healing that took place in the surgical suite. Yet, as I was exposed to all the different specialties of medicine in my training, I felt a new calling from family medicine. I realized I could affect so many more people, and of all ages. I enjoyed working with infants, children, teenagers, young adults, and older adults, so family practice kind of choose me.
With yoga for healthy aging, there was a similar draw. As I finished my yoga training, I was again thinking of how my new passion, yoga, and its health promoting and healing potential could reach the largest audience possible. And as I worked with yoga for the first 16 years of my practice, age itself may have been choosing this path.
And isn't the concept of aging intriguing? At face value, from the day of conception, each of us is aging each and every day. The first 18 years or so of our lives are mostly about growth towards our adult bodies and brains, so aging is exciting, as we get closer to becoming mature adults—often considered a desirable threshold. Then, as we enter our young adult years, finding our place in society, and our first careers and important relationships, age seems have a neutral reputation for a while. And somewhere in mid-life, we realize we have been around a while and even begin to contemplate if and when this life might be over, and age's reputation starts to tarnish. But all the while, we are getting one day older with each spin of the planet. And sometimes we are in good health, and sometimes we are faced with the myriad of physical, mental and emotional challenges humans fall prey to. Life.
I added yoga into the formula of my life around age 34, and have been reaping the rewards ever since, the ones we write about each week—flexibility, strength, balance, and agility, as well as the stress managing benefits and the sense of equanimity in the face of ever changing circumstances. But I have also seen these same benefits in the very young, the teenager, the young adult, and the much older adult who take up the yoga practice and make it a regular part of their lives. It's quite powerful! So I want to inspire and teach as many people out there as possible about the wonderful potential yoga has for us as we travel our lifetimes. So, that is at least part of the reason why I have chosen to "specialize" in yoga for healthy aging. Thanks for asking and prompting me to sit and reflect in this immensely gratifying journey I am on with yoga.
—Baxter
Subscribe to Yoga for Healthy Aging by Email ° Follow Yoga for Healthy Aging on Facebook ° Join this site with Google Friend Connect