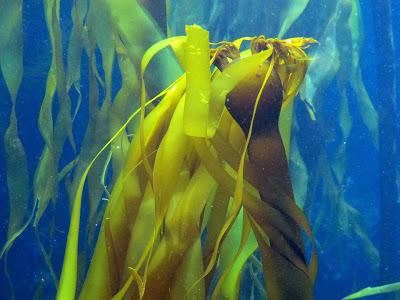 Seaweed by Melina Meza
One of our readers left the following question on the post
Degenerative Disk Disease and Yoga
:
Q: I wonder what you mean by 'gentle, slow yoga'? Could you give some examples?
A: In the post in question, I was reviewing a study that looked at the spines of experienced yoga teachers and observed that the discs between the bones of the spine—the vertebrae—were healthier than a control group who did not do yoga. The teachers, who were from Taiwan, all taught a "gentle, slow form of yoga." Unfortunately, from what I could find online, I was not able to ascertain which yoga lineage or modern strain of yoga they were teaching.
When I speak of "gentle, slow yoga," I am referring to practices that would typically include mostly beginning-level yoga postures, although some intermediate poses, especially seated poses, could be done in a gentle way. In fact, the
way
in which the poses are instructed or performed, that is, the
quality of the effort
, would be gentle. The poses could be held for a while, say a few breaths to several minutes, if the gentle quality could be preserved, or there could be a slow transition from pose to pose, a kind of slow motion vinyasa style practice. Many of my colleagues teach what they call "Slow Flow," which could qualify in this category of style of practices, to differentiate from the faster vinyasa classes that move more rapidly from pose to pose, such as "Power Flow" classes or the Ashtanga Primary series. More obvious, perhaps, would be Restorative Yoga classes, where the effort is minimal, and one tends to be in each pose for several to many minutes. Many studios now offer public classes that they actually name "Gentle Yoga." But names can be deceiving, so the proof is in the pudding, as they say. See what your experience is like in so-named classes before you give it the "gentle, slow yoga" seal of approval.
And don't be led to believe that just because a practice is gentle and slow it may not be effective, or that you won't feel much. In the study at hand, it may have led to the better disc health for these teachers as demonstrated on MRI studies. And on a day-to-day or week-to-week basis, you may also notice distinct improvement in mobility, strength, balance and agility despite the "name" of the class or style. If you haven't given this kind of class a spin, maybe this is the weekend to do so!
—Baxter