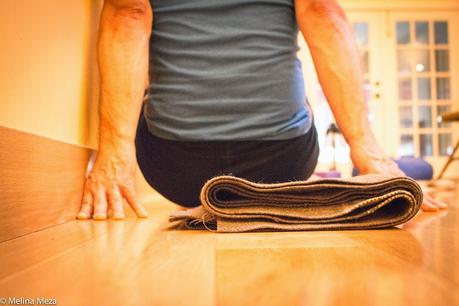 In the Yoga Studio by Melina Meza
Q: What are your recommendations for finding a safe yoga class? 
A: In general, yoga classes provide more benefits than safety concerns, as long as you can find the right class for where you are starting. In the past, we have discussed the issue of staying safe in a yoga class from a few of different perspectives (see Take Care of Yourself or Your Students, 9 Tips for Being a Good Yoga Student and Resting Between Poses), but today I'd like to try and sketch out a more complete, three-step approach to keeping yourself safe in a yoga class. And this approach should start even before you walk into your first yoga class or any new yoga class....
1. Vet the Yoga Studio
Before you even attend a class for the first time, it is a good idea to visit the website of a potential studio to:
Check how long the studio has been in business. It is generally better to attend classes at a studio that has been in business for a while. If the studio is new, at least try to find a teacher who has significant teaching experience.

Review the bios of the teachers, with particular interest in how long potential teachers have teaching and what type of training they received. See Finding the Right Yoga Teacher and Friday Q&A: Finding a Yoga Teacher for information about choosing the right teacher for you.

Look over the class schedule to see if the studio offers beginning level classes or an introductory series (highly recommended for beginners!), and specialty classes that might meet your unique needs, such as a Back Care class if you have low back issues, or, if you are an older adult, do they offer special classes for your age group? 
If what you see online looks good, plan to check out the studio in person, noting how you are greeted at the studio, if your questions are answered to your satisfaction, and checking out the physical space as well. Make sure the studio looks and feels safe. Check for:
clean, non-slippery floors (such as wood, bamboo, or thin carpeting—no thick carpets) 

yoga props (these will help the teacher keep you safe)

clearly marked exits

adequate and accessible restrooms?

fire extinguishers

a first aid kit (if that's important to you)
You also might ask about class size as you look at the practice space to make sure you will feel comfortable and not too crowded. 
2. Vet the Class and the Teacher
If you're very concerned about safety, another great way to screen for an appropriate class is to ask to observe the classes you are most interested in trying out. If you get the OK to do so (usually a good sign), try to arrive a bit early and get a good vantage point in the back of class so you can see the room well. Introduce yourself to the teacher and after sharing with the teacher any injuries or health issues you are dealing with (see What Your Teacher Really Wants to Know), ask if this class would be appropriate given your circumstances. Notice if the teacher addresses your concerns.
Then, as the students come in, notice if the teacher greets the students individually, and for new students, does he or she ask for the student's name, and inquire as to any injuries or health issues? During the class, does the teacher give individual attention or recommendations to the students? Does the teacher offer a variety of options for the poses for those with varying degrees of ability? 
Try to assess whether the level of difficulty of the class and the pace at which it is taught seem possible for you to try safely. Are there props offered to make the yoga poses more accessible for those with physical limitations? 
Do you feel that there is adequate room around each student's personal practice space—the yoga mat and the immediate area around each student—for everyone to practice safely without having to worry about the wayward limbs of a neighboring student? You will discover that there are some very popular classes, by virtue of the time of day they are offered or the popularity of the teacher, which can be quite crowded. So you need to decide if the space-to-student ratio is good for where you are at in your learning curve. 
Finally, do you get a sense that the teacher is not only concerned with student's physical safety in exploring yoga asana but is also nurturing the growth of the students with an appropriate mix of encouragement? This may not become totally apparent until you actually take a few classes, but is worth considering as you settle into a regular public class.
3. Vet Yourself!
An important aspect of staying safe in a yoga class is the issue of self-responsibility. 
Start by considering your motivation. Why do you want to take the class? To lose a few pounds, to get stronger or more flexible, to improve your balance, or to lower your stress? Knowing why you are interested in the class will go a long way in guiding you to find the most appropriate and safest class for you. 
Second, be honest about where you are starting from and what your current condition is. Have you been active or inactive as of late? Are you under a moderate to high amount of stress? Are you dealing with any significant illness or injury that might impact your yoga experience? If so, be sure to choose a class that is appropriate for your current condition that will allow you to address your issues. And if you have been dealing with a significant illness or injury, consider taking a few private sessions with a senior teacher to prepare you for a public class. Taking private sessions to prepare you for a public class is actually a good option for anyone who thinks they learn best one on one; a lot of my new students choose to do a few privates sessions to learn the basics so they feel safer and more confident when entering into a group class. 
Third, ask yourself how well you tune into the messages from your own body. I wrote a while back in my post Tension vs. Compression about the concepts of tension and compression as they relate to sensations that can arise in your practice. Being able to differentiate between these feeling can go a long way in keeping you safe in class settings. The teacher cannot be keeping an eye on everyone at all times, nor do teachers have ESP to know if you are in pain. Your body's messages to your brain will tell you when a pose is entering a potentially unsafe zone and you can bring yourself out of the pose at that time (see Resting Between Poses). 
Finally, can you ask for help when you need it? It is important that you not only get good at sensing what is happening in your body, but you also need to get comfortable asking for guidance when worrisome issues, such as nausea, dizziness, change in vision, shortness of breath, sudden unexpected pain, loss of sensation in a limb, chest pain or a racing heart, arise. I think you get it, right? Stop practicing when something like this occurs, get your teacher's attention, and ask for help and guidance. 
See 9 Tips for Being a Good Yoga Student for more information about how to look after yourself in class. 
With these guidelines and suggestions, you should be able to do yoga in a public class with a high degree of certainty, as much as we can have in an uncertain world, that your experience with be safe and, hopefully, rewarding!
—Baxter

Subscribe to Yoga for Healthy Aging by Email ° Follow Yoga for Healthy Aging on Facebook ° Join this site with Google Friend Connect