Q: My daughter just came from a retreat with Dr. Bell in Montana and suggested I contact you regarding some chair poses. I'm 77 years old and am in good physical health, but have never been involved with yoga.  Can you point me in a direction if indeed you do have chair poses as included somewhere on your website?
A:  Thank you for your question. Turns out we have nine different posts listed in our table of contents on this topic.  Click here to see a short sequence on our site. As with any yoga sequence, you may want to do easier versions of some of the poses, for instance, the seated backbend and forward bend pictured might be too deep for a new practitioner to do safely, so only take yourself part way in those directions.  Also, know that in addition to doing poses seated on the chair, you can also use a chair for support while you are standing. Find a chair that has a back that is tall enough so you can place your hand on it while you stand behind it. This will allow you to explore some of the standing poses by using your hands on the back of the chair to help you with your balance. If you get stronger and more confident in some of these poses, you can also wean yourself off the chair as a support.
You might also consider getting a book on chair yoga or a book that includes chair yoga practices. Although there are many such books on the market, here is a short list of books that I have in my own library and can recommend:
Yoga For Osteoporosis by Loren Fishman, MD and Ellen Saltonstall
The Healing Path of Yoga by Nischala Joy Devi
Recovery Yoga by Sam Dworkis
Some of the chair poses you will find in these books would be great for someone just starting out with yoga; others might be too advanced.  Usually your common sense will tell you which ones to avoid.  I am sharing a picture I took of the Sun Salutation in a chair from
The Healing Path of Yoga
as an example of how you might move through a series of shapes with the support of your chair.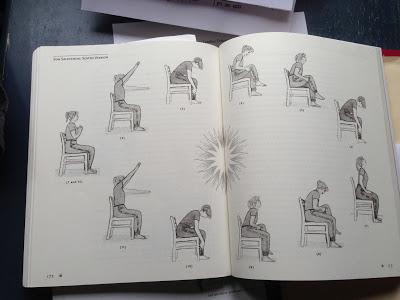 In addition to books, there are a lot of free yoga videos online at
youtube.com
. But I recommend you watch the videos from start to finish without doing the practice to make sure it all looks safe and doable for you at this point in time. Sometimes the quality of those freebies is not so great, so look at a few before deciding which one to practice with.
Finally, make sure you also look around your community for a chair yoga class. They are becoming more and more common, especially at the YMCA and senior centers or places that cater to an older clientele. And learning in person from a teacher is one of the best ways to get started with your practice.
The nice thing about chair yoga is you can get away with doing it with out too many props. All you really need is a sturdy folding metal chair, although other chairs without arms can work nicely, too, as long as they are sturdy.  I am sure in some books you will come across poses that employ other props, like firm wool or cotton blankets, yoga blocks or belts.  And these things can be helpful, but if the thought of getting all that extra stuff is daunting and gets in the way of you trying some yoga in a chair, just forget about them for now, and explore what you and your chair can do, just the two of you. One other consideration: it is nice to have your chair not sliding around on the floor, so get one with those plastic sticky caps on the bottom of the legs, or have the chair in a carpeted room where the legs will dig into the carpet as you move on the chair, or if you have a yoga sticky mat, place the chair on your yoga mat. 
And no matter where you end up getting your chair yoga information from, keep in mind that the basic skills of mindfulness and attention to your breath and your body will need to be applied to the work you do in the chair. If you have any present difficulties with arthritis or osteoporosis, two extremely common issues in those over 65, consider reading our posts on those topics.
Then, as
 you prepare to do some yoga, you can be mindful of which movements to be more careful with.
Have fun and let me know how your yoga practice is coming along!
—Baxter