by Baxter and Nina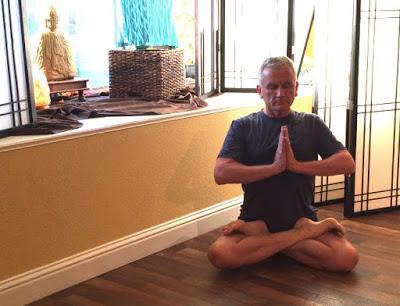 Jim Coughlin, Age 60
Those of you with health conditions or injuries that have resulted in ongoing, chronic pain or intermittent pain, (think low back injuries, fibromyalgia, and chronic migraine headaches, to name just a few) may have developed a certain adverse relationship with pain over time in the form of feelings of anger, fear, worry, anxiety, despair, sadness, or loss. Unfortunately these responses to pain will often trigger your stress response, which typically increases your pain. And brooding about the pain in general can increase your perception of your pain levels, something we call "the pain on top of the pain." 
In addition to allowing you to actually reduce your pain levels (as your pain reduces, your attitudes and feelings toward it may also shift), yoga enables you to actively change your adverse relationship to pain in the following ways: 
Because brooding or thinking excessively about your pain can distort your accurate perception of your true pain levels, using yoga stress management techniques to quiet your mind allows you to short-circuit your mind's tendency to focus on pain. In your new, clear state of observation, you may discover that your true pain levels are lower, sometimes significantly, than the pain you experience while focusing on it. 

You can improve your pain tolerance by listening to your body and improving your overall self care. You can also improve pain tolerance by cultivating mental and emotional equanimity, which enables you to be more content with what you have and what you don't have. 
The following sections provide details about how to use this techniques.
How to Quiet Your Mind While in Pain 
To short-circuit your tendency to brood about pain, use any stress management techniques that work for you. We particularly recommend:
Breath Awareness. Repeatedly coming back to your sensations of breathing interrupts your thoughts about pain 
Structured Breath Practices. Simple breath practices that require concentration, such as timed 1:1 or 1:2 inhale/exhale patterns and alternate nostril breathing, keep your mind focused on your breathing. 
Guided Relaxation. Recorded or self-guided relaxation practices keep your mind engaged on physical relaxation or positive imagery. 
As you practice these techniques, your pain levels may decrease, your tolerance for pain may improve, and your typical mental-emotional responses to your pain may become less intense or may even dissipate. 
In addition to quieting your mind, meditating on positive emotions, such as gratitude or joy, or on positive images, enables you to transform feelings of sadness, frustration, fear and anger into more positive states of mind. One study showed that meditating on joy literally activated the areas of the brain that produce positive emotions. This surge of positive emotions may reduce your pain levels, while also improving your pain tolerance and your attitude about the pain.
Meditation also has the long-term benefit of teaching you about mental habits that

might

be contributing to your pain, allowing you to consciously choose new, healthier ones. For example, your chronic pain may have triggered stress eating, which led weight gain that is worsening your pain (which can happen, for example, with knee arthritis). By observing your thoughts during a meditation practice, you may become aware of the chain of events that leads to your stress eating and then choose a healthier response to the pain, such as taking a short movement break that actually lowers your pain, rather than turning to food. 
How to Improve Your Pain Tolerance 
Mindfulness practices where you focus on your physical sensations other than pain, such as meditation, breath awareness, and mindful practice of asanas, allow you to tune into your body and recognize its needs. These practices teach you to differentiate between chronic, low- level pain and acute surge in pain, which will allow you to have a better sense of when to exercise and when to rest, of how far you can safely move in various yoga poses, and of which practices actually help your pain. (Of course, If your pain becomes severely acute and disabling, it would be wise to get to your doctor urgently.) 
Tuning into your physical sensations will also allow you to improve your self-care in general, as you, for example, realize you need more sleep or to schedule a health care treatment. Becoming an active participant in your self care can give you a sense of control, which can help you move past your adverse relationship towards chronic pain And improving self-care may even allow you to start participating more in the activities that matter to you, improving your overall quality of life.
Another way to improve your pain tolerance is to cultivate equanimity, the original aim of yoga:
When a man has mastered himself,
he is perfectly at ease in cold,
in heat, in pleasure or pain,
in honor or in disgrace. —Bhagavad Gita 
Studying yoga philosophy provides you with an alternative way of thinking about your life, enabling you to be more content with what you have and what you don't have. And that includes accepting chronic pain as part of your life, which allows you to tolerate the pain more easily. In general, cultivating contentment as described in sutra 1.33 Patanjali's Yoga Sutras, can be very helpful. 
1.33 Through cultivation of friendliness, compassion, joy, and indifference to pleasure and pain, virtue and vice respectively, the consciousness becomes favorably disposed, serene and benevolent.
Another particularly helpful technique for countering the negative reactions of your mind is pratipaksha bhavana, which means "cultivating the opposite." 
3.3 When disturbed by negative thoughts, opposite [positive] ones should be thought of. —Swami Satchidananda 
Here's an example of how to apply pratipaksha bhavana: If you had an increase in pain, your first thought might be, "I won't be able to go to work today with this level of pain." But practicing pratipaksha bhavana could allow you to reframe this thought to, "I will be able to work today, despite this pain level" or "Let's see if I can work today, despite this pain level." See Cultivating the Opposite for more information on pratipaksha bhavana.
But any yoga philosophy that speaks to you and helps you cultivate balance and equanimity in your mental and emotional life is going to help you increase your pain tolerance and improve the quality of your life.
Subscribe to Yoga for Healthy Aging by Email ° Follow Yoga for Healthy Aging on Facebook ° Join this site with Google Friend Connect