Made with just a few simple ingredients, these perfectly fluffy gluten free blueberry waffles are sure to brighten up your morning.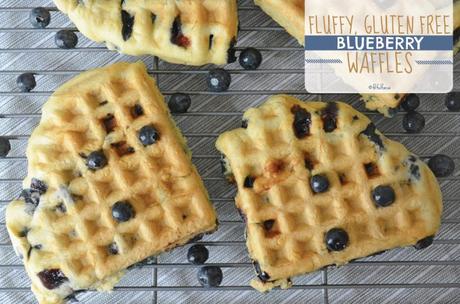 I was trying to figure out what recipe I wanted to make for the blog this week. I jotted down a few thoughts that popped into my head (new overnight oats? mix up my smoothies?), but I wasn't really excited about any of them. Later that night, Will and I settled down to watch a movie. We decided on Shrek because the week had been filled with adulting (we got termite protection for our house and had gutters installed-very exciting stuff) and we wanted to feel young again. The moment Donkey said his famous line, "...and in the morning, I'm making waffles!" I knew what I'd be making.
I haven't had waffles in ages, and waffles on an easy Sunday morning after a week of house things sounded perfect. I took out a few ingredients, set the waffle iron to heat up and got to creating these perfectly Fluffy Gluten Free Blueberry Waffles.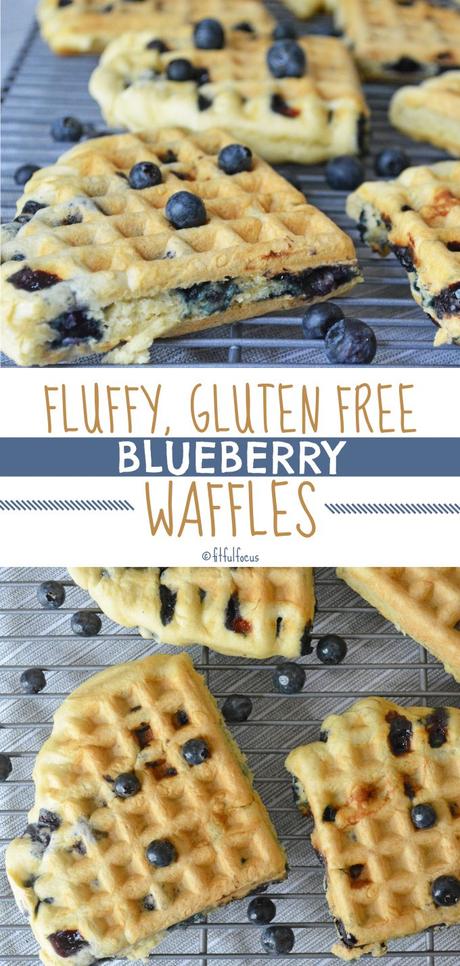 I don't know about you, but I think blueberry waffles are the best kind of waffles around. They add that little extra bit of sweetness and juiciness. Plus, a few berries make for a balanced breakfast, right?
Anywho, I pulled out some bluebs and my favorite all purpose gluten free flour blend from NOW Foods, as well as some other baking essentials, a couple bowls and my trusted measuring cups and spoons.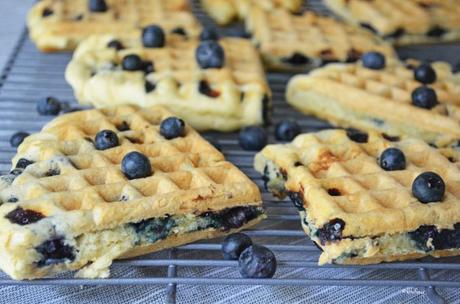 It takes just the right combo of ingredients to make these fluffy gluten free blueberry waffles so fluffy. The key is to get a nice thick batter vs. a liquidy one. To do so, you'll need a little less milk and more eggs than you may be used to.
Start by mixing together your dry ingredients in a large bowl. Then whisk up your wet ingredients. Whisk it reaaaaaal good. Make sure all those eggs are broken up and everything is blended. Then pour your wet ingredients into your dry ingredients and fold it all together. Like I said, the batter will be nice and thick. Last but not least, fold in those blueberries!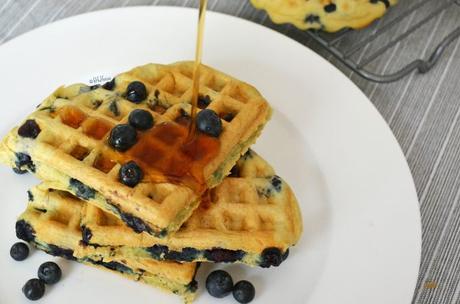 Once your waffle iron is good and hot, spray it with non-stick spray. Don't be shy with that non-stick spray. Ain't no use for a waffle that's stuck to your iron.
Then spoon your batter on. Because the batter for these fluffy gluten free blueberry waffles is thick, it's best to spoon vs. try to pour. If you pour, you make just end up with a big glob that's hard to spread, so spoon it onto your waffle iron, press your iron closed and let it do its thing. It should take 5-10 minutes depending on your iron and desired level of crispiness on the outside. I like my waffles just golden on the outside, but regardless of how crispy you like your outer layer, the inside of these babies will be nice and fluffy.
Pop some onto a plate, drizzle (douse) them in syrup, and dig in!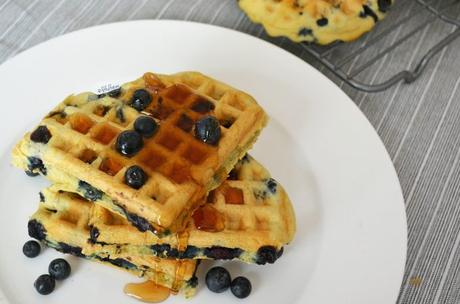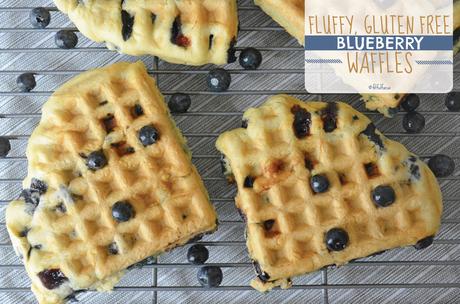 Ingredients
Instructions
Notes
Let's Chat:
What's your favorite flavor waffles?