Feb 27, 2013 by Tatianna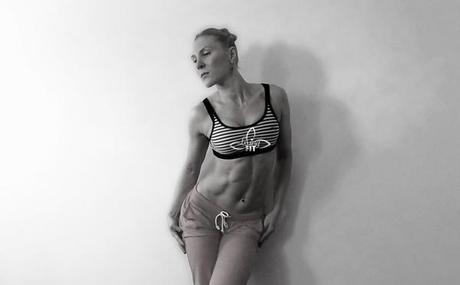 Hello my Sweets,
I have another Lower Body Workout for you today, I wanted to make a workout for you guys before I leave town tomorrow. This routine took me about 27 minutes to complete, but I'm pretty sure some of you will beat my time.
I also wanted to let you know that because of me leaving town this past weekend, there was no Mingle this Monday, and there won't be one the coming up Monday, cause I'm leaving again to see my friend ( the one I told you about a few Mingles ago ), so the next Monday Mingle will be on the 4th of March.
I also have another part of your questions that I need to post, but that I will try to get around to when I'm on my trip ( don't worry I didn't forget

)
OK, now let's get to today's routine.
For everyone who is new to Loving Fit I recommend to check out " Creating Your Workout Plan " post. There you will be able to see how I put together my routines, and you can find something for your own fitness level. My philosophy is: Form is always more important than speed, so WATCH YOUR FORM!
Things to remember before, during and after your workout
Warm-Up
Always Practice Good Form
Stretch
Workout Explanation
For this routine I was using my Gymboss timer and my sandbag ( I had about 23-25 lbs in there ), I'm trying to keep my sandbag weight low right now, because I notice just a slight increase in weight and I start growing bigger muscles on my legs than I would like. So, if your goal is to get bigger muscles, I suggest you increase your sandbag weight.
This workout has 2 parts, first part is done for Proper Form and Time, second part is Interval Training ( 7 minutes in length ).
Part 1
Set your timeras a stopwatch, complete 5 rounds of the following.
Pick-up Squat – 25 reps
Bodyweight Back Lunge Right Leg – 20 reps
Bodyweight Back Lunge Left Leg – 20 reps
Toe Lifts – 30 reps
( You can also use your sandbag for Back Lunges and Toe Lifts if you like, but make sure you're not taking any breaks on the back lunges, if you feel like you need a break before completing all of your reps don't use your bag )
Part 2
Set your timer for 2 intervals of 35/35 = 6 ( rounds ), or 1 interval of 12 rounds. There are 2 exercises back to back ( no breaks )
My time – it took me 20 minutes and 24 seconds to complete part one.
Have fun with this routine my sweets!
Hugs,
Tati
and I also have INSTAGRAM now


PHP Freelancer