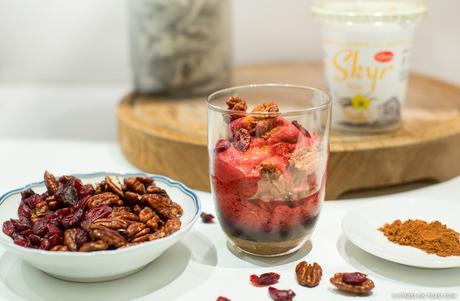 Winter descended long ago, and memories of cooling summer desserts shimmer in the distant heat haze. Poetic interlude aside, my way of dealing with that is to meet it head-on and embrace the frost! So ahead of  Christmas, here's my seasonally-on-point,
 festive Scandinavian-inspired Skyr dessert recipe
! It uses generous dollops of a thick, luxuriant Icelandic all-natural dairy product called 
Skyr
, a delish fat-free version of which 
Lidl
 have just launched! They asked me to come up with a healthy dessert recipe to put it through its paces, and this one just created itself; it's so quick and easy to make, but offers up a whole lot of satisfying flavor, whilst making use of just 4 key ingredients! The Scandi and festive touches are lent to this dish by way of the cinnamon, pecans, and cranberries which also add a delicious textural crunch-and-chew! Click MORE to get the full 
delicious
 recipe…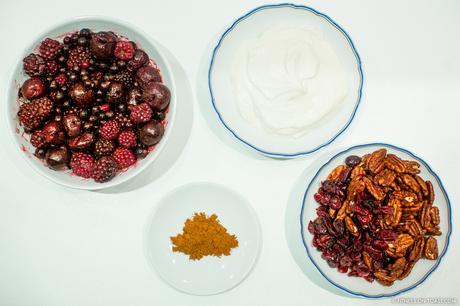 I'm using Skyr, a super-dense, creamy-textured dairy product. It takes about three to four times more milk to produce one can of Skyr than one equivalent amount of normal yogurt. The texture is incomparable; it's far more dense, such that I'd liken it to the difference between single cream and double cream (but without the fattening drawbacks as it's fat-free!). That makes it
very high in protein whilst still being low in sugar
, which to my mind renders this a great, versatile breakfast / snack that can be mixed with so many different ingredients and flavors to create a great dish. 
What I really love about this is the affordability
; I often receive emails about the high cost of health staples like quinoa and nuts, but Lidl's Skyr pots (150g) cost £0.49, which reinforces my message that
 healthy eating needn't cost the world, and is very much accessible
. They also stock the likes of organic coconut oil and manuka honey, so this isn't a one hit wonder