By Baxter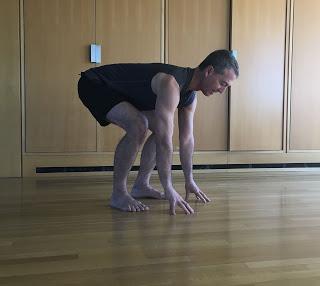 Fig Leaf Forward Fold is a form of Standing Forward Bend that involves hinging from your hips, bending your knees, and maintaining a neutral spine. Forward bending this way can help protect your back because you can touch the ground in this pose without rounding your lower back—which can strain it—unlike classic Standing Forward Bend (Uttanasana). I named the pose after imagery yoga teacher Jean Couch used to describe the position in an National Public Radio story on a healthier way to bend forward from standing (see
The Lost Art of Bending Over
). 
In addition to protecting your lower back, this pose builds strength in your legs and hips, stretches your hamstring muscles (backs of your thighs), and improves the range of motion your hip joints. 
I prescribe this pose for: 
Safer bending from a standing position 

Building leg and hip strength 

Lengthening the hamstrings as a warm-up for other poses 

Substitute pose for Standing Forward Bend, for example, in Sun Salutations 

Preparation for activities where you want to use the position to protect your back, such as gardening, unloading the dishwasher, or picking things up off the ground 

For those with osteoporosis and osteopenia to keep the spine safe 
T

iming: You can practice this as a static pose, starting with shorter holds of 15-30 seconds and working up to longer holds of 1-2 minutes. You can also practice this as a dynamic pose, bending down on your exhalation and standing back up on your inhalation, repeating 6 times. 
Cautions: People with arthritis or significant stiffness in their hips, knees, or ankles may not be able easily do this way of forward bending and should try to do it very gradually by starting with version 4. Those with high blood pressure should only hold the static version for 3-4 breaths. 
Version 1: Full Fig Leaf Forward Fold 
Start in Mountain pose with your hands on your hips and your feet at least hip-distance apart and slightly (10-15 degrees) turned out.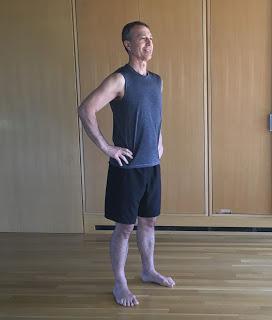 Picturing Adam and Eve, bring your awareness to your "fig leaf" area (your pubic bone). On an exhalation, start to bend forward by hinging your hips forward as you bend you knees in the direction of your toes, moving your fig leaf down and back between your legs to encourage maximum forward tipping of your pelvis over your upper leg bones.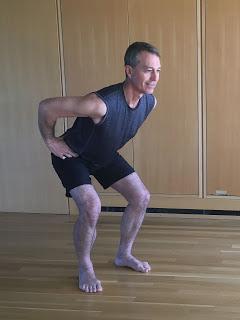 As you tip your pelvis forward, move your entire torso along with it, maintaining a neutral spine as you do so, seeing if you can reach a position where your torso is parallel to the floor.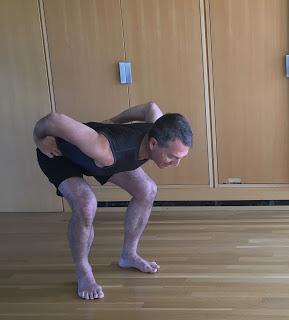 Now, release your hands toward the floor and see if you can touch your fingertips to the floor without rounding your back (keeping your spine completely neutral). If you notice that you are rounding your lower back, come back up and try versions 3 or 4.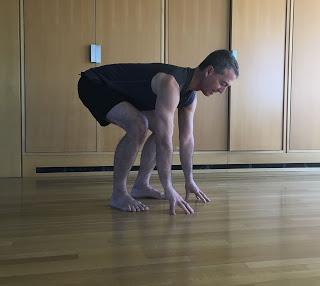 To come out of the pose, on your next inhalation bring your hands back onto your hips and return to Mountain pose by pressing your feet firmly into the floor while strongly engaging your leg muscles and lifting your torso back to upright while keeping your spine neutral on the way up. Take a few breaths in Mountain pose before repeating it one more time. 
Version 2: Feet Parallel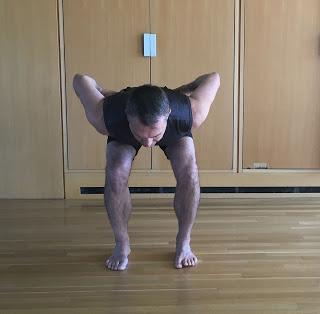 This alternative may be accessible to those with greater hip flexibility, who may find it more useful when combining this pose with other poses that need parallel feet, for example, within Sun Salutations and when moving into Lunge pose from Mountain pose. 
Start in Mountain Pose with your feet parallel and at least hip-distance apart. From here, following the instructions for version 1 to go into and come out of the pose. If you find that you cannot touch the floor or are not as comfortable in this version as you were in version 1, return to version 1.
Version 3: Wide Feet 
For those who cannot touch the floor in version 1 or who can't get comfortable doing so, this alternative may allow you to bend more deeply or be more comfortable in the position. 
Start in Mountain Pose and step your feet a bit wider than hip-distance apart (experiment with the distance until you discover the one that works best for you). Turn your feet out to a bit more than the classic pose, somewhere between 15-30 degrees. From here, following the instructions for version 1 for going into and coming out of the pose. 
Version 4: Hands on Blocks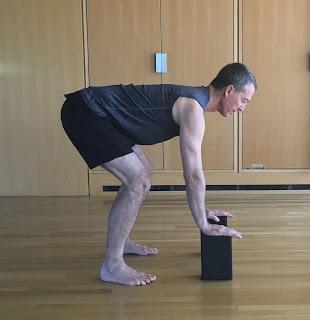 For people who are stiff and cannot reach the floor in version 1, this alternative allows you to begin with a version of the pose that can lead you with practice to doing the full pose. 
Start in Mountain Pose with two blocks on their highest height about a foot or so in front of your feet. Place your hands on your hips and position your feet as in version 1 or 3. To come into the pose, follow the instructions for versions 1 or 3, and stop when you start to feel that your back might start to round if you go any further. At this point, release your hands and see if you can touch your fingertips to the top of the blocks. If your elbows are bent as you touch the blocks, you could try turning the blocks down to the middle or lowest height and see if you can maintain your neutral back alignment as you touch them. 
To come out of the pose, follow the instructions for version 1. Over time, if you notice that it is getting easier to touch the blocks on the highest height, start with blocks at a lower height.
Subscribe to Yoga for Healthy Aging by Email ° Follow Yoga for Healthy Aging on Facebook and Twitter ° To order Yoga for Healthy Aging: A Guide to Lifelong Well-Being, go to Amazon, Shambhala, Indie Bound
or your local bookstore.
Follow Baxter Bell, MD on YouTube, Facebook, and Instagram. For upcoming workshops and retreats see Baxter's Workshops and for info on Baxter see baxterbell.com
.