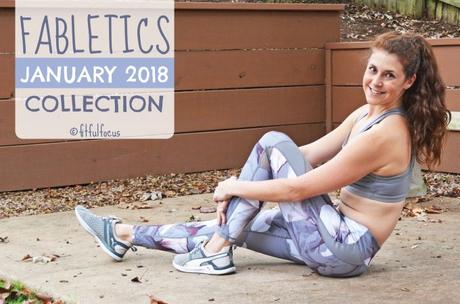 This post is in partnership with Fabletics. As always, all opinions are my own.
When it comes to workout gear, I can't bring myself to spend big bucks at the high-end retailers. These are clothes I sweat in. I want them to be cute and functional, but shell out $150 or more for a pair of leggings that I'm going to look a hot mess in an hour from now? Nope. Can't do it.
That said, I do consider myself a fairly fashionable human being. I like looking good. I like being on trend. I want those fashionably fit looks without that putting my wallet through a workout. That's why Fabletics is my go-to for workout gear.
I've been wearing Fabletics apparel for years, and it never ceases to disappoint. It's just as cute (if not cuter) than the gear with the premium price tag, and it performs just as well (if not better).

One of my favorite things about Fabletics (besides that their clothing is both well made and well priced) is that they come out with new styles every month. I had the hardest time picking my favorite pieces from their January collection, but I couldn't be happier with my final picks.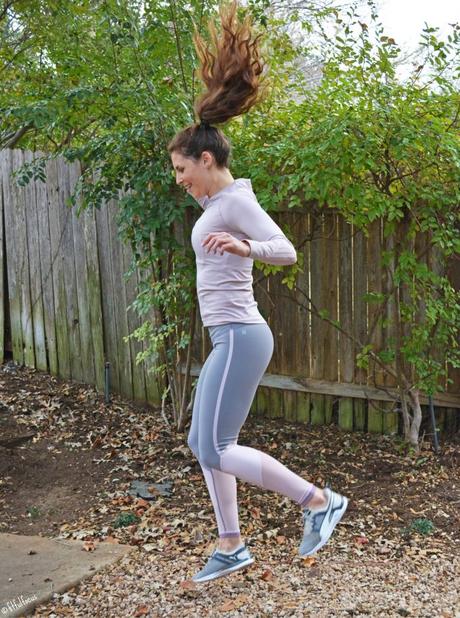 You might recognize this outfit from Goat Yoga. The Lottie, as it's called, includes the Salar Mesh Powerhold Legging and the Dylana Seamless Top. I love the clay/dusty rose color combo on the leggings, and the top has an open mesh detail on the back and sleeves for extra breathability.
All of Fabletics' Powerhold Leggings are are made of moisture-wicking, chafe-resistant compression fabric. They have all-way stretch, which makes them extremely comfortable and have UPF 50+ which is fantastic for outdoor workouts (and puppy play time).
OUTFIT 2: REMI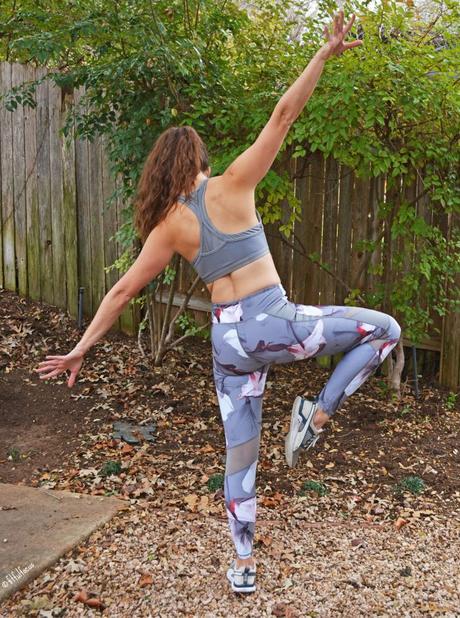 Are these leggings not amazing? Their also Powerhold Leggings, so they function just as well as the ones in outfit 1, but they're revved up a bit with new high-shine panels. I love the mixed media look and the graphic print. And for all my runners out there, yes, they have a pocket in the waistband!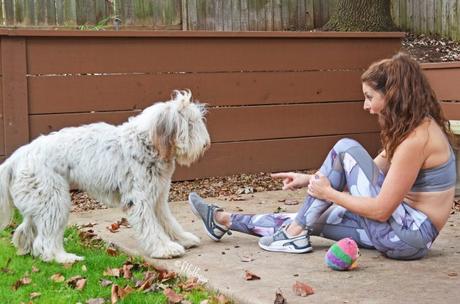 The Celeste Sports Bra is a medium-support bra that does double duty, thanks to a power mesh overlay and high-shine underlayer. It has a double layer racerback and removable cups and is made of all-way stretch for extra comfort.
As for fit, I find their sizing chart to be a pretty good guide. I double checked their chart before making my selections, but everything ended up being pretty true to size.
Ready to give Fabletics a shot? Shop my favorite looks!
Got some fit & fashionable fun to share? Join the Fit & Fashionable Friday Link Up!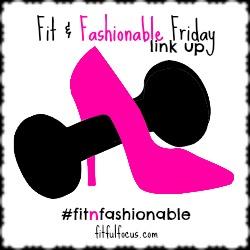 Let's Chat:
Which outfit is your favorite?
Have you tried Fabletics?