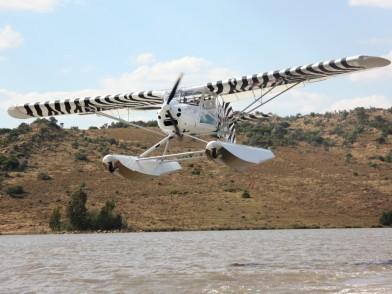 Southern Africa remains one of the most wild, and remote, destinations on the planet, with beautiful landscapes, wondrous wildlife, and a dizzying array of destinations to explore. Recently, adventure travel legend
Richard Bangs
made a fantastic journey through the region aboard a tiny aircraft known as a BushCat, which gave him an up close, and very personal, look at a part of the world that many never get the chance to see. His travels took him from South Africa into Namibia, a country that offers as much opportunity of adventure as any place on Earth.
Richard has recounted his experiences in
a wonderful piece that he wrote for the Huffington Post
. In the article, he shares the tale of a group of adventure travelers zipping off by BushCat to roam the wild African landscapes. Their journey takes them over expansive deserts, past dazzling waterfalls, through deep gorges, and into abandoned diamond minds. They also manage to find time to visit a remote vineyard, as well as a number of other off-the-beaten path locations, including the famed Skeleton Coast.
As the expedition continues, the travelers are able to spot wildlife from the air, turning their journey into an airborne safari of sorts. Elephants, zebras, giraffes, and all manner of African animals are on display. But not content to just look at the animals from the safety of their aircraft, they also visit a conservation area, where they can track collard cheetahs in the wild. Elsewhere, they go in search of the elusive desert elephants that are known to inhabit the Namib.
The story is a long one, but it is a great read, and an indication of just what kinds of unique adventures can be found in southern Africa. I particularly enjoy the angle of this story, with much of the travel being done in the small BushCat aircraft. These tough little planes are capable of a lot of things, and they are being employed across the continent to help authorities hunt for poachers, while aiding in animal conservation efforts as well. Using one to explore these amazing landscapes sounds like an amazing experience to me, and this article will make you feel like you're along for the journey yourself.