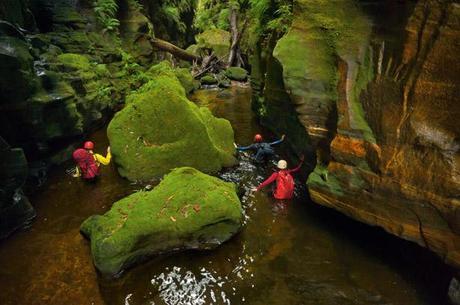 Canyoneering is the term given to an outdoor activity that involves hiking, climbing, and scrambling through narrow, twisting canyons. It is a popular outdoor pursuit in places like
Zion
,
Bryce Canyon
, and Canyonlands National Parks here in the U.S. It also happens to be the subject of a new article from
National Geographic
as well, with author and climber Mark Jenkins traveling to Australia to experience the Aussie version of the sport.
The article, which can be read in its entirety by clicking here, explores an extreme form of canyoneering in which participants look for the most remote, unexplored, and narrow canyons they can find. They travel light, relish the challenge of getting into tight places, and aren't afraid to endure cold water, unforgiving rock, and extremely narrow slots, just on the off chance that they might discover a place that no one has seen yet. They even revel in the fact that a GPS won't work in the narrow gorges, forcing them to navigate by map and compass – that is, if a map of the area even exists.
One of the most popular destinations for canyoneering in Australia is the Blue Mountains. Located not far from Sydney, the Blue Mountains are a series of canyons carved by rivers over thousands of years. The area also happens to offer thick vegetation, leading Jenkins to describe the area as a mix of Utah's canyonlands, covered with the dense plant life found in Louisiana.
Aussie canyoneers have a culture that is all their own. The article introduces us to a couple of these characters, who obviously love what they do, but are also reluctant to share their favorite destinations with the outside world. They even have a bit of rivalry between them that adds a bit of flavor to their story.
As usual, this is another great story from Nat Geo and it will likely have you dreaming of canyons to explore as well. The Blue Mountains, which are central to the story, sound fantastic, and reading Jenkins account of his own exploration into those canyons makes me want to visit the place as well.
The bucket list of adventures just continues to grow.