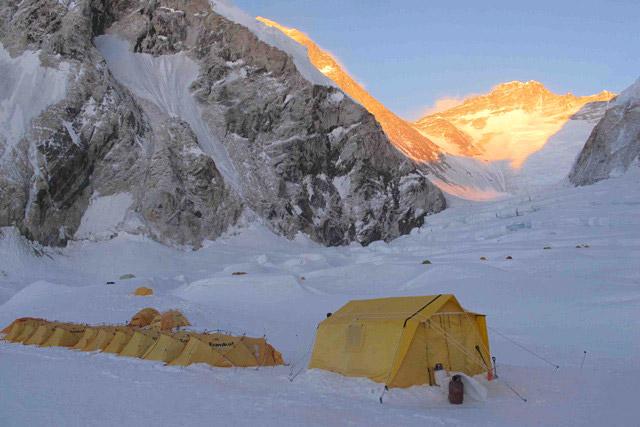 Now that a bout of good weather has settled over Everest most of the teams are taking advantage of it to get in an acclimatization rotation. For some, it will be their first time up the mountain but others are already preparing for their second round. All of that work will eventually pay off when the summit bids begin in a few weeks, but at the moment it can be a tedious task to march up and down the slopes while attempting eat and sleep at altitude. Two things that can be extremely difficult.
Most of the teams that are heading up to Camp 2 on the South Side are carrying fixed rope with them when they go. The Sherpa teams haven't started fixing the lines up the Lhotse Face, but that work is expected to commence tomorrow. The team of 10 Sherpas tasked with this work will be efficient and professional in their approach. As a result, it is expected that access to Camp 3 will be available as early as Saturday with some teams planning on climbing up to that point this weekend. One of those teams is the IMG squad, which has one of their teams already up in C1 and heading to C2, while others will return to those points over the next few days.
Also heading back up today is the RMI team led by Dave Hahn. He also confirms the plan to begin fixing ropes on the Lhotse Face tomorrow and says that while his team isn't contributing Sherpas to that effort, they will be shuttling ropes up to Camp 2 to help lend a hand. It doesn't sound like they have plans of heading up any higher than that at the moment, so don't look for the RMI climber to visit Camp 3 until sometime next week. It is a slow and steady pace for this crew.
The Peak Freaks are resting in BC after their latest round of acclimatization and most everyone seems to be doing well. One member of the team was evacuated yesterday however as he was suffering from High Altitude Retinal Hemorrhaging (HARH). Christof Deblauwe of Belgium reported seeing strange spots before his eyes, including flashes and yellow spots. A quick examination by the Everest ER team confirmed the diagnosis and Christof was quickly flown by helicopter back to Kathmandu. The lower altitude should solve the problem, but unfortunately he will now have to return home. I've never heard of HARH before, but apparently it is something to take very seriously. If ignored, it can cause permanent loss of sight. Lets be careful out there kids!
One climber who is keeping a close eye on the rope fixing activity is David Tait, who is currently in Base Camp and waiting for his next rotation to begin. He confirms the plan to have the fixed ropes in place to the South Col by April 30, which would put the Sherpas on schedule for completing the work to the summit sometime in the first week of May. Tait, who has climbed the mountain five times already, is likely chomping at the bit to get going and I wouldn't be surprised if he isn't far behind the Sherpas once the work is done. He'll certainly do his best to avoid the large crowds that will be heading up in the middle part of May. David also noted that the Himex team is moving a bit slower this season thanks to having their logistics and Sherpas spread out across the area. He notes that that will all change soon and the team will become more focused on their task at hand.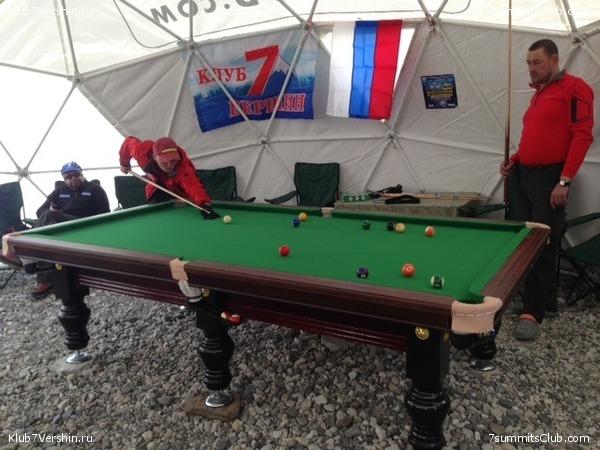 On the North Side at least one team is having some fun on their expedition. The 7 Summits Club held a high altitude billiards tournament to help their international squad of climbers relax in Base Camp. Remember, on the North Side the teams can actually drive to BC, so no one had to actually lug a pool table all the way up to BC by hand. The result is a nice distraction for the group while they live in BC for a couple of months.
Finally, Denis Urubko and Alexei Bolotov have climbed up to C3 on the South Side, which is located at 7400 meters (24,278 ft). They have established camp there for a few fellow climbers before proceeding back down to BC today. They now intend to head down the valley to Debouche for a little rest before turning their attention to their planned new route along on the Southwest Ridge. Now that they are full acclimatized, that will be the task at hand. They'll probably begin working that route, in alpine style and without oxygen, starting next week.
Good luck to everyone on the mountain. Stay safe.