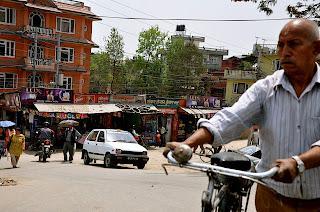 This is a very busy week for the teams planning on climbing Everest or one of the other Himalayan peaks this spring. Most of them have now packed their gear and shipped it to Kathmandu and are either en route themselves or will be departing shortly. Just getting to Nepal can be quite an experience as I discovered a couple of years back. My journey from Austin, Texas to KTM required 36 hours of travel spread out over  four flights. Needless to say, after all of that time you arrive in a less than optimal state.
This morning Alan Arnette, who has made that journey a fair number of times himself, has written a blog post about the experience and shared a few updates from climbers who are now arriving in Kathmandu. One of those climbers is Ian Ridley, who has already passed in and out of Nepal's capitol. Ian is now on the trail to Base Camp and should be amongst the first arrivals sometime next week.
Alan also linked out to a good radio interview, which you'll find below, with Conrad Anker who shares insights into his upcoming Everest expedition sponsored by National Geographic. Anker and his team will be taking on both the West and Southwest Ridges, while being shadowed by scientists who will be conducting a variety of research studies while there.
From my own experience in Kathmandu that the city is currently a hive of activity. Climbers and trekkers are arriving en masse right now and some will spend a few days there while others will turn around and head straight out to the mountains. Weather will start to become a concern, even at this early stage, as flights out to the legendary Lukla airport will be regularly delayed or canceled. The days spent in KTM can be spent picking up last minute gear items in the Thamel District (beware counterfeit gear!), touring the city and the surrounding area and generally resting up for the challenges ahead. While I was there it was warm and muggy and rolling blackouts made it much more comfortable to be outside than staying in a stuffy hotel room. Kathmandu is as amazing and crazy as you would imagine, and some place that every traveler should experience at least once.
We should start to hear about arrivals in BC on the South Side by next week and the real work will start to get underway. The Sherpas are already there, staking out the camps for the various teams and preparing to build the route through the dangerous Khumbu Icefall. On the North Side things will lag behind a bit, as climbers won't even gain access to Tibet until April 1st. Expect to hear more from that side of the mountain shortly.