Happy Tuesday! After a chilly weekend, it's oddly warm here in NYC , but you won't hear me complaining! I'll take all the warm weather I can get before the inevitable icy tundra hits. But I'm not here to talk about the weather (I want the news, not the weatherrrr <— points if you can name that song!).
I'm here to talk about essential oils for the second Essential Oil Focus post!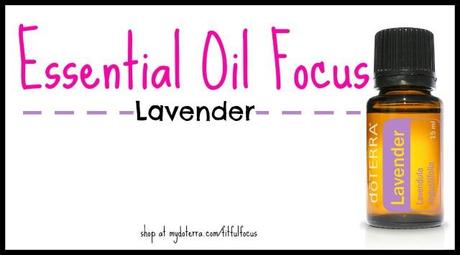 One of the most popular essential oils (and one of my personal faves) is lavender. How could you not love something that looks like this in nature: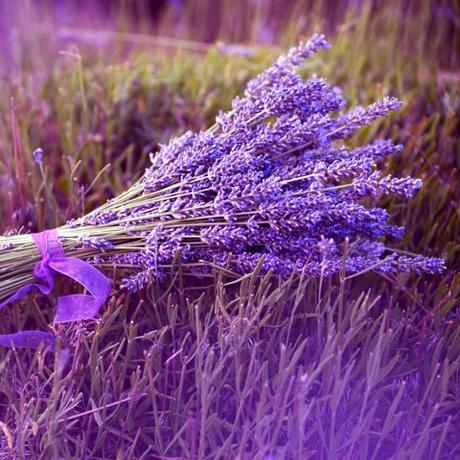 image source
This post contains affiliate links. 

Inhale the fresh floral. Ahhhh. Like a garden in my nose. Ok, that's weird. What I'm trying to say is that this oil smells so lovely that I want to smell it all day long.
 
And if the smell isn't lovely enough, lavender oil has a number of lovely physical effects, including promoting well-being, peace, compassion, grounding, and spiritual consciousness. It's my go-to when I'm feeling the steam of anger coming on or when I just need to relax.* Ommmm namaste, my flower.
Lavender is incredibly versatile, especially because it can be used internally, topically, aromatically, and neat (applied directly to the skin without diluting). Here are a few of my favorite uses: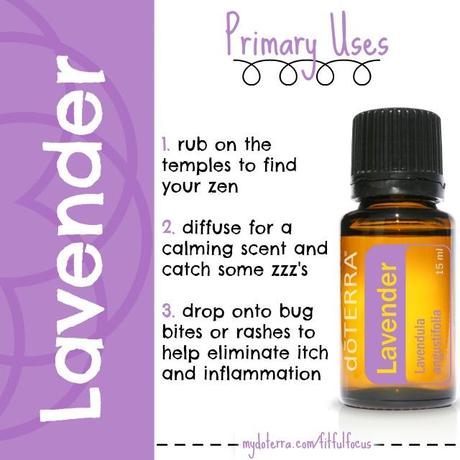 Calming Agent

– Whenever I'm feeling stressed, or overwhelmed, I go straight for my lavender oil. I rub the tiniest bit on my temples to soothe my anxieties and calm down. The lovely aroma combined with a few deep breathes helps me chillax (<— where did "chillax" come from? Snoop Dog?).

Sleep

– I started diffusing lavender oil each night as I ease into bed, and I've noticed a HUGE difference in the quality of sleep I've been getting. I fall asleep much easier and sleep through the night much better than before.** Even my boyfriend likes it! Scented bedroom = happy boyfriend = sweet sleep! 

Itch-be-Gone!

– Whenever I get an itchy bug bite, I put a little lavender oil on it. Not only does the itching decrease, but the redness and swelling also goes down. Lavender oil is also said to be beneficial for helping to heal burns, blisters, chicken pox, cuts, sunburns, and inflammation. It's like a first aid kit from the secret garden!
There are a number of doTERRA products and oil blends that include lavender oil:
AromaTouch Massage Blend
PastTense Tension Blend
Serenity Calming Blend
ClaryCalm (monthly blend for women)
Anti-Aging Moisturizer (I use this and LOVE IT!)
Pore Reducing Toner (I'm also a huge fan of this guy)
---
Stress of the holidays getting to you? Relax with the soothing scent of lavender #essentialoil
Click To Tweet
---
Anyway, if you're looking to chillax with Snoop Diggity Dog, get choself some lavender doTERRA. You can get some from my little doTERRA shopping site, or shoot me an email and I can order some for you.
If you have any questions about essential oils, would like more info on them, or would like to join my doTERRA team, contact me! You can also check out the first Essential Oil Focus post (about On Guard protective blend) here. 
Let's chat:
Are you a lavender fan?
What helps you calm down when you're stressed or overwhelmed?
Can you name the song referenced in the first paragraph of this post?
*Lavender doTERRA has not been evaluated by the FDA, so legally, I must tell you that it may not create ommm-like qualities. I can't say that it will turn that hot headedness into cool and collected yoga vibes. That said, the scent is lovely, and when I'm in a bad mood or need to relax, the smell of fresh florals does the trick – for me personally – maybe not the world. Are we cool, FDA? Cool. 
**There is no proof that this essential oil will help you sleep better; this is just my personal experience. Man I feel like I need 30 seconds of legal copy ala pharmaceutical commercials… "Side effects include happy sleep and calming energy. Boyfriends may approve. If boyfriends do approve, please continue using throughout the night as necessary…"