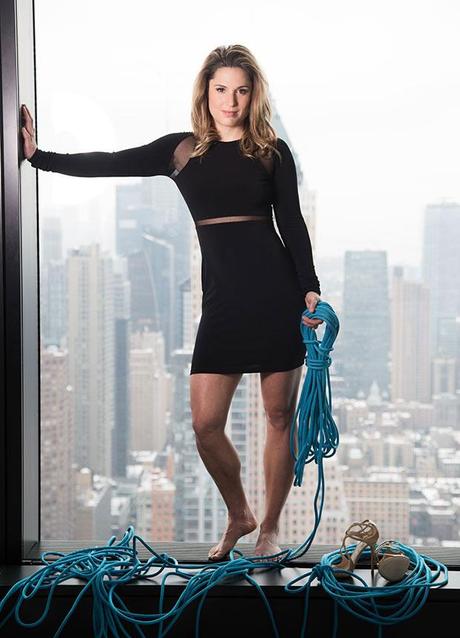 Esquire magazine has posted an interview with Melissa Arnot, one of the most accomplished and respected mountain guides on the planet. For those who aren't familiar with Arnot's resume, she has summited Everest five times, and has topped out on Rainer more than 100 times. She has had multiple expeditions to Aconcagua, Cotopaxi, and Kilimanjaro, and she's even been up Denali once. In short, she's incredibly accomplished in the mountains, and it is great to see her get some mainstream publicity.
Calling her "the most badass woman in mountain climbing," Esquire talks to Melissa about how she prepares to climb Everest. Arnot says that her workout routine involves 4-5 strength and endurance training, mixed with Yoga, several times a week. This year, she even added training for a marathon to the mix, which she ran right before she left for Nepal. She also discusses how she dealt with the disappointment of the season being can called, saying she returned home, and went on a long bike ride from Yellowstone to Glacier National Park, and back again, covering some 700 miles in the process. Arnot says it still didn't feel like it was enough to get her over not being able to climb.
Speaking on the tragic accident that claimed the lives of 16 Sherpas on Everest this past spring, Melissa says that she thinks continuing the expeditions would have helped a lot of people to heal. She says she understands the plight of the Sherpas, and their demands for better pay/insurance, but she also feels they were "shooting themselves in the foot" by closing down the mountain. She emphasizes that the season didn't end because the mountain was too dangerous, but because of a political fight between the Sherpas and the Nepali government.
Melissa also notes that she is returning to Nepal this fall with the Juniper Fund, a nonprofit that she started. She has been raising money to help the families of some of the Sherpas who lost their lives on Everest, and other Himalayan peaks, and will be visiting them to start delivering those funds.
As I mentioned above, it is always great to see someone that we follow on a regular basis here on The Adventure Blog to get some mainstream recognition. This interview is mostly a collection of quotes from Melissa, but they do help to convey her story, and her feelings for life in the mountains, and the tragic set of events that took place in Nepal this season. But, since this is the mainstream press, there are a few inaccuracies in the story. For instance, the writer says that Arnot holds the record for the most summits of Everest by a female climber. Melissa herself would tell you that that is not true. Yes, she has climbed the mountain more times than any other western woman, but Lakpa Sherpa is believed to have six summits, one more than Arnot. If things had gone according to plan, Melissa would have tried to summit twice this past spring, earning her the distinction of holding the record. As it stands, she'll go back next year to add to her total.
The writer also describes a climb up Everest as "trek" at one point, which is hardly the case. True, you can trek to Everest Base Camp, but I don't know that I've ever heard of the climb to the top referred that way. She also mistakenly referred to Glacier National Park as "Glacial," which may sound like I'm nitpicking, but I would expect the writer to at least get that correct.
Still, Melissa does most of the heavy lifting, and it is good to get her read on the situation in Nepal, and her approach to high altitude mountaineering. The article is worth a read for that alone.