by Nina
I don't know about you, but Ram's post yesterday The Dangers of Being Sedentary scared me a bit.
Findings from a recent study showed that individuals who sat for more than 11 hours daily were 40 percent more likely to die within the next three years than those who sat for four hours or less daily—even when people's physical activity at other times of the day was accounted for. Studies have also indicated that sitting daily for less than 3 hours and watching TV for less than 2 hours extends life expectancy by an estimated 1 to 2 years. Studies reported in the prestigious journals Lancet and the British Medical Journal suggest that a sedentary lifestyle is the cause of one in 10 deaths worldwide. It's now known that Americans are working less (26 minutes a day less compared to Y2007) and idling off more. Adults in the U.S. spend an average of 55 percent of their day engaged in some kind of sedentary behavior (see Sedentary behavior and life expectancy in the USA: a cause-deleted life table analysis).
In his post, Ram identified two obstacles that cause us to be sedentary: styana (inefficiency, idleness, procrastination, dullness) and alasya (laziness, sloth). The problem is, how do we overcome these obstacles? I mean, we all basically know that sitting around all day isn't a good thing, but after hours of doing it—so many of us sit at desks all day or have long commutes—inertia tends to set in. And this can create a lot of resistance to the idea of getting up to practice yoga, even if you know it will be good for you and that you'll feel better afterward. You think: Oh, I just don't feel like it today—maybe tomorrow.
"Old man, stiff man, weak man, sick man, they can all take practice but only a lazy man can't take practice." — Sri K. Pattabhi Jois
I know this because even after years of practicing yoga at home on my own, I sometimes notice that tendency in myself. I do have some tricks up my sleeve, however. And I thought today would be a good day to share them, so you'd have some new ideas for fighting both styana and alysya.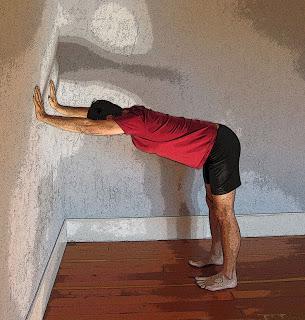 My first trick is a mental one: I tell myself that I don't need to do a full practice, that I can just do one single pose, you know, like Downward-Facing Dog. But I might want to warm up a bit before that one, so, let's see, maybe a Half Downward-Facing Dog at the wall followed by a full Downward-Facing Dog on my mat. And guess what, by that time, my energy starts flowing and my momentum starts to build, and I end up doing a full-length practice.
My second trick is to pick a pose to start that will energize me, even just a bit. I know that moving with your breath is a good way to fire up your energy. So standing in Mountain pose and raising arms overhead on the inhalation and down by your sides on the exhalation is a good way to energize yourself, maybe even shake off a feeling of depression, and that can lead to some other vinyasas or who knows where.
But if you don't feel like standing up—yeah, I know, sometimes you just don't—you can get on your hands and knees and do the Cat-Cow pose, inhaling as you come into the Cow position (the sway back position) and exhaling as you come into the Cat pose (the arching position). That leads very nicely into Downward-Facing Dog pose, and then maybe Standing Forward Bend, by which time you might feel ready to stand up on your mat!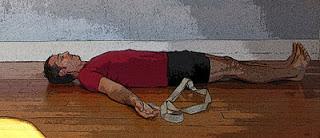 My third trick is that when I'm feeling particularly tired or lazy, I tell myself that I can start lying down. Ah, yes, lying down sounds real good.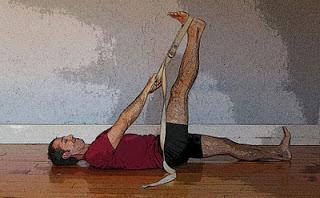 Often I start with Reclined Leg Stretch and other reclined hip openers, and even just moving my legs around gets me in the mood for a Downward-Facing Dog pose (and helps make that pose easier), which in turn leads....
Another way to energize yourself is to open your chest, and that's also a good way to counteract all the forward bending you've been doing by sitting down for hours. Good news is this is also something you can do lying down. Try a passive backbend over a blanket roll or a bolster for three or more minutes. Then roll over and see what you might feel like doing next. Lately I've been starting by doing a reclined shoulder opener that my teacher often has us do in the middle of class: lying on your back, with a strap just above your elbows, bring your arms up and overhead (if they don't reach the floor, try holding a block between your hands). Three minutes of that, and if I'm not ready for Downward-Facing Dog pose, I might procrastinate a bit with some reclined hip stretches. It's all good.
And if this strategy doesn't work? What if you only end up doing just the one or two poses? Well, that's much better than nothing. It might even start a new habit that will allow you to gradually grow into a longer practice over time—my own home practice started with me practicing just a few poses. And, besides, you can always try again in a couple of hours....
Of course, what I've mentioned here are just a few of many possibilities. Readers, how do you shake off your lethargy and start moving? I'd love to hear your recommendations.