by Nina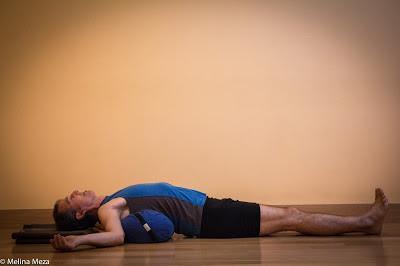 The last few days I've been staying with a friend (a man in his sixties) who doesn't do yoga, but who is very physically active (hiking, tennis, cycling, etc.) and who also sits at a desk. While we were hiking 

together

  we talked about his back, and what he could do to keep it healthy. I said, I do have one simple suggestion, and I told him about the passive backbend that Timothy recommended in his post

Cultivating Healthy Posture with a Simple Restorative Pose

. When he asked about buying a prop, I said that I was sure I could find some things in the house we could use. And as soon as we got home, he brought out a rolled up blanket to support his chest and I got a towel from the bathroom to put under his head, and I set him up in the pose for 5 minutes. He loved it! So now he's going to try to do it on a regular basis, especially on days when he spends a lot of time in front of the computer (he works mostly from home these days). And I asked him to keep me updated on his practice ad the results he sees from it. In the meantime, for all of you out there who may not have read Timothy's original post (see 

Cultivating Healthy Posture with a Simple Restorative Pose) 

 and our post with four different versions of passive backbend (see

Featured Pose: Supported Backbend

), I thought today I'd remind you about this very simple, very pleasant way of maintaining back health and/or finding relief from mild low back pain. I myself practice it about five days a week, cause, yeah, I'm a writer.
Happy practicing, Bob!
Subscribe to Yoga for Healthy Aging by Email ° Follow Yoga for Healthy Aging on Facebook ° Join this site with Google Friend Connect