by Nina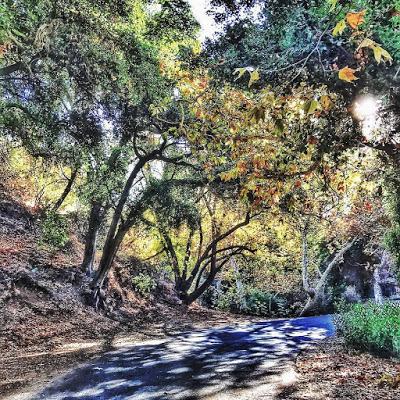 Canyon Road
by Heidi Santschi of Heidi Santschi Garden Design
"Death is going to happen to you—whether you want it to or not—and you're never going to be completely comfortable with it. But it's an important process, and please consider facing it." —Caitlin Doughty 
Although the subject of death is one that is often avoided in the west, we don't shy away from tacking it here. That's because we agree with these words from Erin Collins, who is a Certified Hospice and Palliative Care Registered Nurse, End-of-Life Doula, and Yoga Instructor: 
"So to practice yoga for healthy aging, we have to also practice yoga for healthy dying. We have to be able to face our mortality realistically and to talk about death and dying openly." —Erin Collins
That's why when Agi asked if we had anything on the blog on death (she was particularly concerned about this topic because as a teacher of older students, the death of a class members is something she has to face and help the class deal with), I was able to tell her yes. In fact, we have quite a number of posts on death and grief. We even have one post about how a teacher might help the class with the death of a fellow student. And our articles about holding space for grief and other difficult emotions are relevant for teachers helping students who are grieving. Then I promised Agi I would provide a new post for her that would be a guide to all the articles we have so far on the blog on the topics of dying, death, and grief. I hope that many of you out there will also this guide and the individual posts described her of value.
Note: If you notice something missing from this list of topics or you have some expertise in any of these areas and would like to write a post for us, please let me know. I'd particularly like to have more information about how to use yoga to help people who are dying. Dying In Yoga for the Terminally Ill, Erin Collins, a Certified Hospice and Palliative Care Registered Nurse, End-of-Life Doula, and yoga instructor, shares her thoughts about how yoga can be helpful to those who dying. In The Death of a Friend, I write about how helping someone die is a form of selfless service and how important it is when doing this practice non-attachment because, as with anything else in life, there is no guarantee that things will turn out the way you wish. In Real Life Deathbed Scenes, I discuss the reality of what happens when you interact with someone who is on their deathbed and recommend saying whatever it is you want to say sooner rather than later. This is both for those who are terminally ill and for those who have a relationship with them. In Meeting Death at the Front Door, I write about the importance of being honest with yourself and others about death if you want to choose the way you die. In A True Act of Love,  I wrote about how my aunt got to die the way she wanted because she was faced her death honestly and how likewise her daughter was, even in her sadness, able to be honest about her mother's death and was therefore be able to support her. My cousin encourages everyone to practice honesty (satya) in these circumstances. Death In Welcome to Your Mortality, I write about the work of Caitlin Doughty, a mortician who is honesty combined with a sense of humor to help people face the reality of death. (She herself uses yoga to help herself deal with the sorrow and anger of the people whose loved ones have died.) In Friday Q&A: Death of a Student, Baxter discusses how a yoga teacher might help the class after the death of one of the students. Grief In A Hospice Nurse on Yoga for Grief, Erin Collins discusses how to hold space both for yourself and for others who are grieving. In The Way Home: Yoga for Grief, The Way Home: Yoga for Grief, I interview hospice nurse/yoga teacher Bonnie Maeda about how she came to teach yoga for grief and what her basic approach is. In Yoga for Grief, Anger, and Shame, Robin Sturis writes Phoenix Rising techniques for helping those dealing with those three difficult emotions. In The Reality of Grief, Lisa Wendell writes about the death of her son and the practices that helped her, in some ways, deal with that devastating loss. In How I Came to Teach Yoga for Grief, Lynne Glickman discusses her basic approach to teaching yoga to those who are grieving.
In The Value of Holding Space, Jill Satterfield describes how to hold space for yourself or for others for difficult emotions, including grief. 
In Holding Space, Beth writes about the techniques she uses for holding space for difficult emotions, including grief. In The Eye of the Storm, Jivana writes about his mother's death and what he learned from her about death—and about life. In How We Experience Grief, I discuss how each person's experience of grief is different. In A Death in the Family, I discuss how to find the right yoga practices for you, given your personal experience of grief under varying circumstances. In Coping Mechanisms for Grief and Loss, I discuss healthy vs. unhealthy coping mechanisms and discuss the importance of self-study to learn about your own coping mechanisms. In Yoga As a Healthy Coping Mechanism, I summarize what I've learned about how yoga can help you when you need a break, are feeling stuck, are feeling overly stressed, or are simply exhausted due to dealing with grief or other challenging emotions. In Understanding Yoga for Grief,  I write about what I learned about practicing and/or teaching yoga for grief from all of the above posts and other sources. 

Subscribe to Yoga for Healthy Aging by Email ° Follow Yoga for Healthy Aging on Facebook and Twitter ° To order Yoga for Healthy Aging: A Guide to Lifelong Well-Being, go to Amazon, Shambhala, Indie Bound or your local bookstore.
For information about Nina's upcoming book signings and other activities, see Nina's Workshops, Book Signings, and Books.