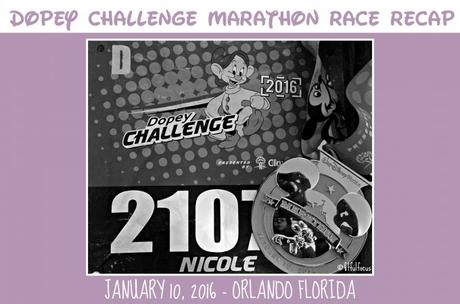 I have to admit, I'm sad that this is the last part of The Dopey Challenge Race Recap series. I'm still riding the runner's high from this race, and I just don't want it to end. I've already started looking into future Disney races. Is that bad? I might be addicted. I blame the It's A Small World Song. That song has got to have some subliminal hypnosis stuff in it convincing all of us to run all the Disney races. Anywho, if you need to catch up, check out the 5K, 10K and half marathon recaps!
Before I dive in, I just have to say that I loved every little thing about this marathon. It was, hands down, the easiest marathon of the 3 I've done, both mentally and physically, and the most fun by far. I was anticipating this race to be a real struggle, especially having run and walked around the parks the 3 days prior, but it wasn't at all. I think a lot of that was due to the fact that I had a friend to run with. Thanks, Angela!
Alright, let's get into it!

Another 3:15am wake up call pulled me out of bed. I was nervous getting up that my feet would be really sore after the half and all the walking around post half, but I felt great! I donned my last costume (Dopey!), made my oatmeal and headed to the bus with Angela. Like the 3 days prior, the bus was there, and we were at race day central in no time.
Security was much faster than half marathon day, so we were through bag drop in no time.
We had plenty of time, so we sat down on our heat sheets to rest our feet and legs a bit before the race. At 4:45, we made the trek to the starting line, stopped at the porta-potties and got into our corral.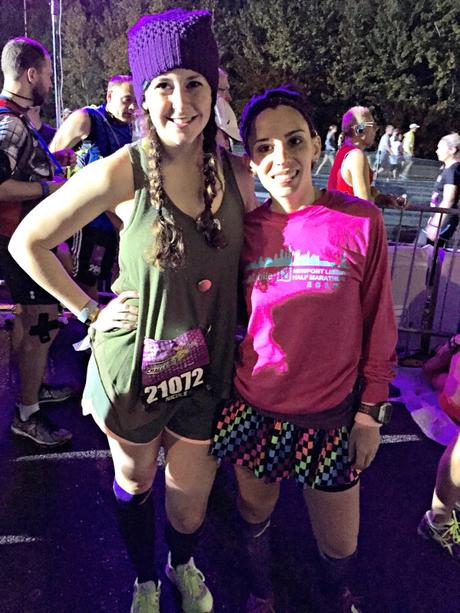 I started getting butterflies, but before I could really get nervous, we were off! Angela and I decided to start with an 8:2 run-walk right from the get-go. Our conservative, slow pace throughout the other 3 races seemed to be paying off, so we wanted to continue that strategy. We also promised that we'd switch to an 8:3 run-walk at mile 16, even if we were feeling good. The weather was pretty warm and at 94% humidity, so I think a conservative pace was a smart decision.
Bonus Tip: If you're training for The Dopey Challenge and don't have time goals, make a run-slow plan ahead of time and stick to it, no matter how good you feel. This will help you save energy and feel strong throughout the 4-day challenge.
Like the half marathon, the first 5ish miles took us along highway and behind-the-park roads. We had a mini celebration at mile 2 as that marked the halfway point in terms of Dopey Challenge miles, stopped to say hi to the Nightmare Before Christmas Gang...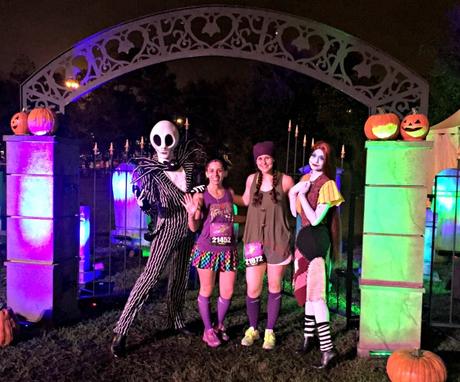 ...and before we knew it, we were running into Magic Kingdom for the last time.
It took us a while to get through this part of the race because we were stopping for all the characters. We said hello to Alice and White Rabbit...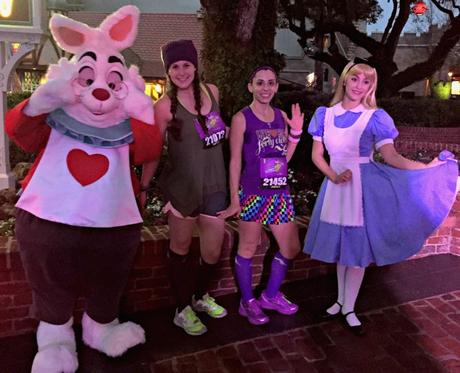 ...were guests to Lumiere...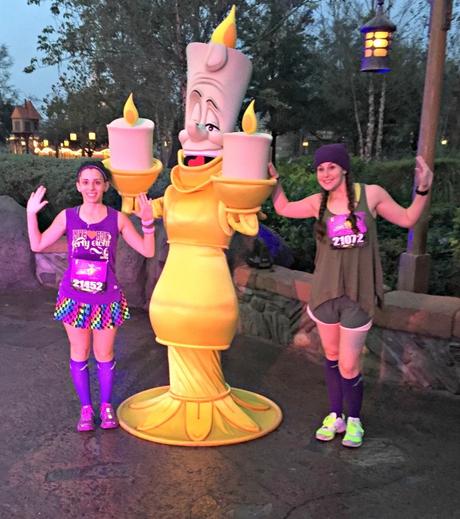 ...and were spooked by Maleficent and her stilted villains before heading back out onto the highway.
I was happy to spy some Mary Poppins characters since we missed them the day before. Chin up, everyone.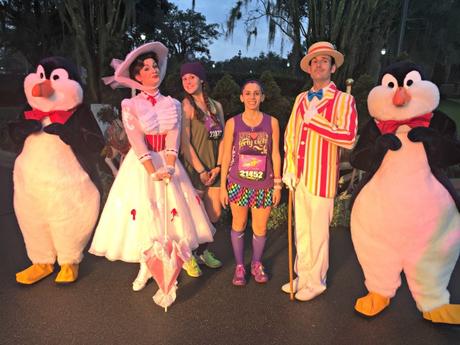 Before entering the Animal Kingdom, we asked Captain Jack Sparrow if he could spare any rum...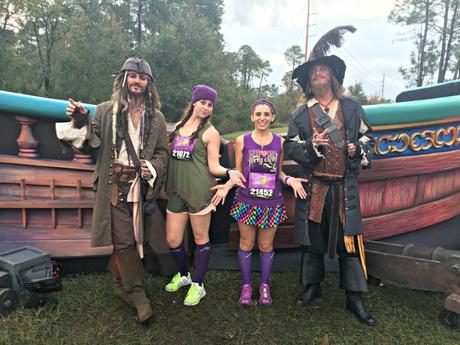 ...struck evil poses with Jafar...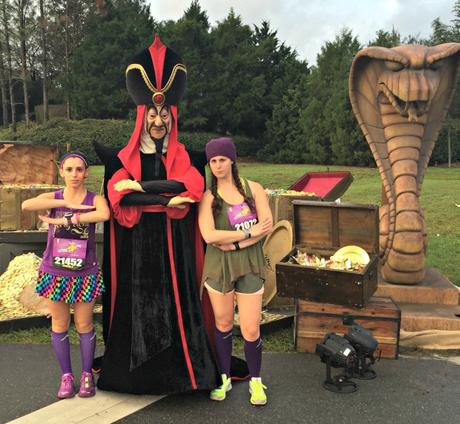 ...and made a pit stop at the porta-potties.
Around Mile 11, the course narrowed and we got stuck behind a pace group. Gah! After about 2 minutes of trying to get around them, they slowed to a walk and we sped up a bit to gain some time on them. That speed took us right into the Animal Kingdom. Hello, tree of life!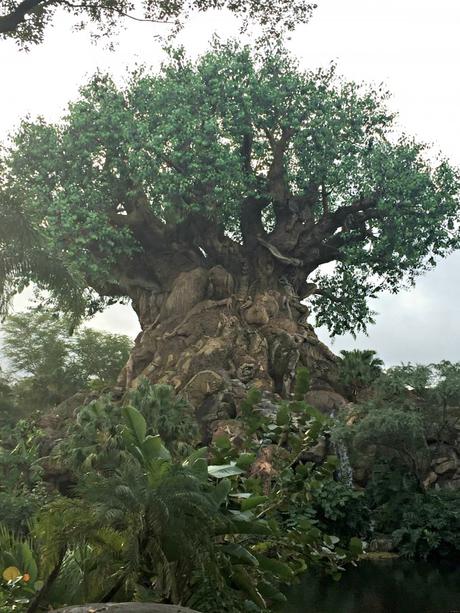 We ended up not stopping for any pictures in the Animal Kingdom. Angela and I both remembered Safari Mickey and Safari Minnie being stationed right outside the park in previous years, so we were gunning for them. Alas, they weren't there as anticipated, so it was back to the back roads for us.
The course narrowed again to a tiny sidewalk, but fortunately this came during one of our 2-minute walk breaks, so we didn't mind. Then, all of the sudden, we passed the halfway point! Now for the real part of the race: the later miles.
I remember these miles being very challenging when I ran the Disney Marathon in 2014. You're just on a long stretch of highway, and there aren't any characters to stop for. This time around, though, it was a breeze! I think the run/walk plan is what really helped us here. I didn't have characters to look forward to, but I did have the little walk breaks. Those really helped make the miles seem less intimidating.
The next thing we knew, we were turning a corner into the ESPN World Of Sports. This part was a blast! Music was pumping, we were dancing, and then... we spied Mickey! He was hidden at a turn, but we spotted him and hopped in a surprisingly short line for a picture.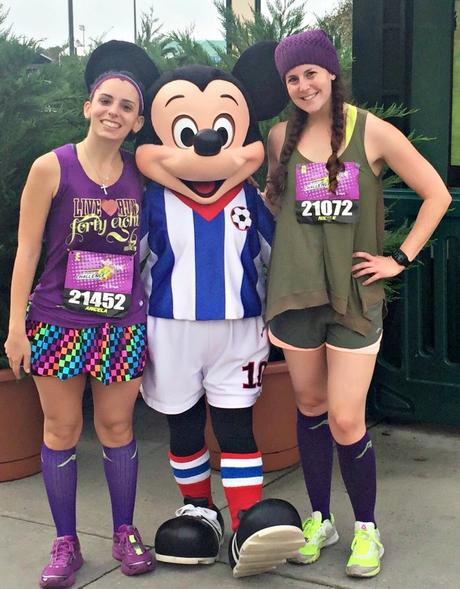 Then we stopped again for Goofy!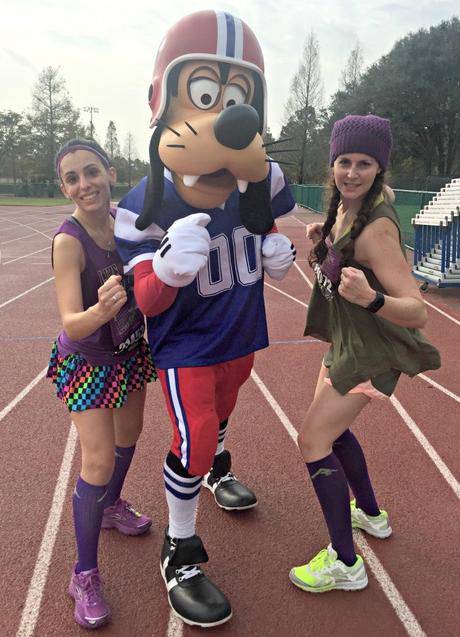 We were beyond mile 16 at this point, so we switched to an 8:3 run/walk interval as planned. We both still felt amazing, but we knew with 9ish miles still to go, it was probably a good idea to take it down a notch.
We ran around the baseball field and suddenly, we were at mile 20. Only 6.2 miles left!
I started to feel some chaffing coming on, so I made a quick stop at a medical tent to pick up some Vaseline.
Bonus Tip: Disney is great with the medical tents. There is one at every water station (which you'll find every 2 miles or so), and they're fully stocked with anything you'd need.
We ran up the one big hill of the race still feeling ridiculously strong, and soon we were on The Boardwalk, where we snagged our final character picture of the race: Mike and Sully!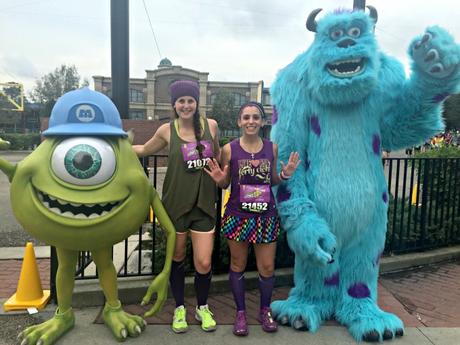 Suddenly, we were in the home stretch. Only a 5K to go. The crowds were so energetic, and all of that flowed right into us. After a walk break in the middle of the 24 th mile, we decided to run to the finish. My legs were feeling great. My feet weren't tired. The Epcot ball was ahead.
As we ran around the World Showcase for the final time, I swelled up with emotion. My heart was so full. I was happy and proud and sad all at once.
The final mile of most long races usually feels like forever. You can't wait for the race to be over, but this time around, I didn't want it to end. Even after 4 days of early wake ups and all the miles we ran, I felt amazing. I felt strong. I want that feeling to go on forever.
As we reached the final stretch, a volunteer told us to put our fake smiles on for the cameras.
"I don't have to put it on, " I thought, "it's bigger and brighter than ever."
Crossing that finish line was the most incredible feeling. There aren't even words to describe it.
I got my medal and was just so giddy...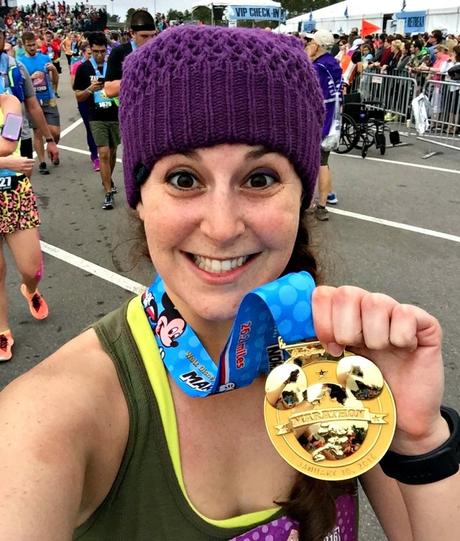 ...and then got my Goofy and Dopey Challenge medals and felt even more giddy...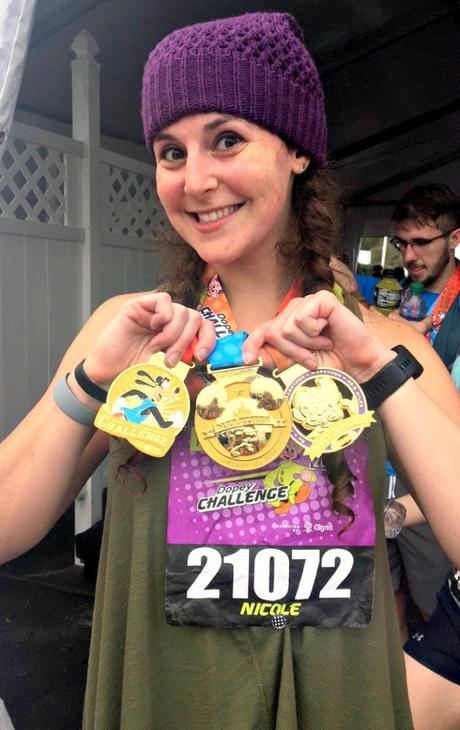 ... and then got back to the hotel, put on the other 3 medals I'd collected, and was the giddiest of giddy!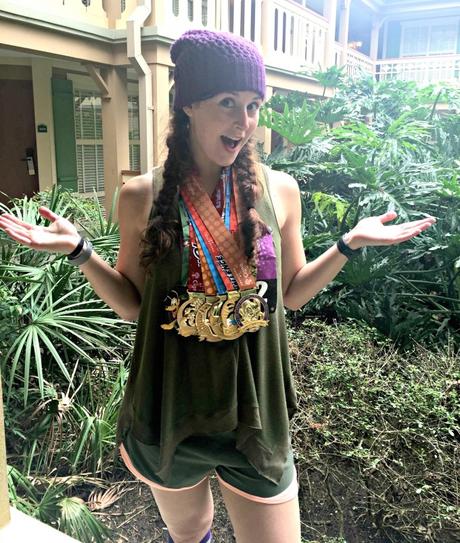 We took wonderfully refreshing showers, grabbed breakfast, and headed to The Spa at Saratoga Springs for incredibly relaxing massages.
Bonus Tip: If you splurge on anything while in Disney for the Dopey Challenge, make it a massage. You deserve it and your muscles will thank you! The Spa at Saratoga Springs is absolutely incredible, and you can bring your swimsuit to enjoy the steam room or Jacuzzi pre-or-post rub down.
Then we headed to Disney Springs for some shopping, where I picked up this adorable mug among other things.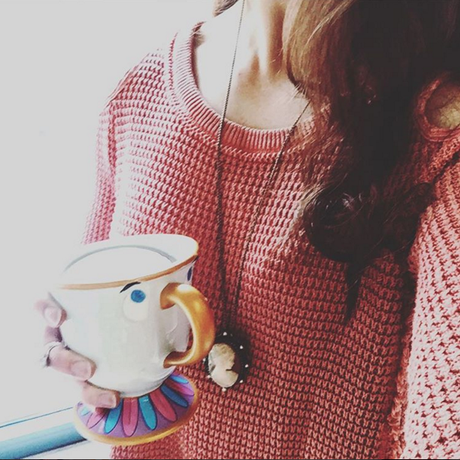 After spending all the money on all the things, we headed back to the hotel for one last dip in the hot tub and dinner at Boatwright's Dining Hall. They had an allergy-friendly menu for me to peruse. Yahoo! I got Jambalaya. NOM!
After dinner, we sadly packed our bags and crawled into our hotel beds for the last time. I replayed the amazing weekend in my head before shutting my eyes, reveling in the fact that I didn't have another 3:15 wake up call ahead.
I woke up the next morning feeling so great. My feet weren't tired, and not a muscle was sore. The Dopey Challenge was such an incredible experience and one I would do again in a heart beat, so my big question to you is, who's with me for 2017?!
Let's Chat:
Have you ever run a marathon where you didn't hit a wall?
Seriously, who's with me for The Dopey Challenge 2017?