by Shari
This is the second part of my response to William Broad's assertion that women—because of their inherent flexibility—are more apt to injure their hips in a "dangerous" yoga class or perhaps during a home practice. I think it is important to understand that whether or not women are more inherently flexible than men, there are significant physiological and anatomical differences in the male and the female pelvis. Have a look at these two pictures!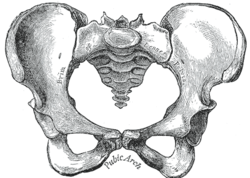 Female Pelvis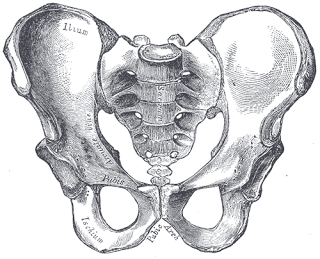 Male Pelvis
As you can see here, the female pelvis is typically larger and broader than the male pelvis, which is taller narrower, more compact and stable. The female pelvis is thinner and it is more mobile partly due to hormonal changes that a woman cycles through and partly due to inherent structural attributes. There is also a difference in the size of the pelvic outlet specifically due to the reproduction capacity of the female The weight-bearing surfaces of the pelvis are larger and more irregular in the male, whereas the female pelvic joint surfaces are smaller and flatter. This structural difference is specifically important in how the sacroiliac joints "lock down" to form a stable weight bearing arch linking the legs with the torso.
The way weight is transmitted through the pelvis is different with the male pelvis having a more vertical weight-bearing loading and the female having a more posterior weight-bearing load. Of interest, male pelvises are often fused after the age of 50 in 50% of males whereas only less than 1% of women's are fused at or after the age of 50.
The acetabula are wider apart in females than in males. In males, the acetabulum faces more laterally, while it faces more anteriorly in females. Consequently, when men walk the legs can move forwards and backwards in a single plane. In women, the legs must swing forward and inward, from where the pivoting head of the femur moves the leg back in another plane. This change in the angle of the femoral head gives the female gait its characteristic swinging of hips.
So if we really want to be anatomically correct, it becomes obvious that women need to do their standing poses differently than men specifically because of our anatomical differences in our structure. In particular, it is wise to leave room for your hips in your standing poses by changing your stance. In poses such as Triangle pose, Extended Side Angle pose, Warrior 1, 2, and 3, Revolved Triangle pose, Pyramid pose (Parsvottanasana), instead of aligning your feet as we are typically instructed to (with your front heel aligned with your back arch), try widening your stance a bit by aligning your front heel with your back heel. Otherwise, if your base of support is too narrow side to side, a lot of accommodations will occur with torqueing and twisting of various body parts that could lead to injury over time.
In addition, these differences in our morphology are important because this—not just inherent flexibility as William Broad claimed—may possibly lead to more injuries for women and therefore they need to be especially careful. A post from me on Healthy Hips, which applies both to women and men, will be coming soon.