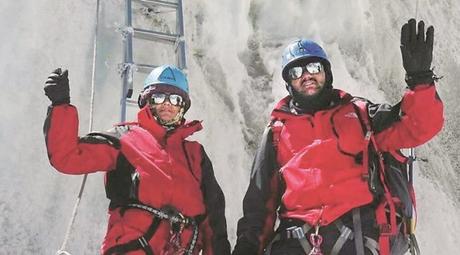 My most accounts, the 2016 Everest climbing season was one for the record books. After two years of cancellations, and several years of unusual activity on the mountain, this was about as close to a "normal" year as we've seen in some time. Of course, that doesn't mean that everything went exactly by the book, as we're now discovering. Reports now indicated that one Indian couple may have faked their summit photos, calling into question the validity of their claims. 
This story broke on Buzzfeed yesterday, where the captivating story of Dinesh and Tarkeshwari Rathod has been called into question. The couple said that they had reached the summit of Everest back on May 23, realizing a lifelong dream that both had shared. The duo were married back in 2008, and reportedly delayed starting a family until after they topped out on the tallest mountain on the planet. Their story, which includes both serving as police officers back home, garnered headlines across the planet. 
Now, just a few weeks later, cracks have started to appear in their story. The photos that were used to document their summit appear to be doctored, faked, or stolen. One image that was used to show their approach to the summit appears to have been taken directly from the International Mountain Guides website, while others seem to have been obviously photoshopped. As if that wasn't enough, the clothes that the couple are seen wearing on their way up the mountain are different from the outfits that they have on in the summit photos. Anyone who follows Everest closely knows that you don't change your clothing during a summit push.
Even more curious, even though Dinesh and Tarkeshwari claimed to have summited on May 23, they didn't declare their success until June 5. They also reportedly did not arrive in Base Camp until May 4. That isn't nearly enough time to acclimatize and prepare for a summit push, unless they had already done so on another major peak in the area. That doesn't appear to be the case here.
Apparently, there are even indications that the couple have faked summits in the past too, which the Buzzfeed article goes into as well. This all seems to point at yet another Everest fraud, indicating that things have indeed gotten back to normal.