After a few weeks of going back and forth, making up my mind and remaking up my mind, I've decided not to run the Brooklyn Half.
I strained my calf 2 ½ weeks ago at the Nike Women's Half, and while it's MUCH better, it still isn't at 100%.
I told myself I would just take it easy during the race. I'd walk/jog it, stop to take pictures, enjoy the crowd and the course. But then I started to realize that if I'm not at 100%, I won't be able to enjoy the race.
I would spend 13.1 miles worrying about making the strain worse. This chick has been out of running condition for long enough! I want to get back into my sneaks ASAP and don't want pushing myself too soon to jeopardize that. Plus, I know putting strain on a strain (I'm hysterical – I know) can tear the muscle even more. The last thing I want is for this calf strain to turn into an Achilles tendon tear.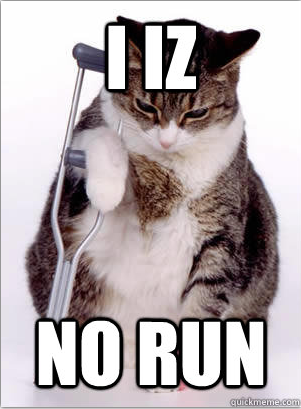 So, this Saturday, instead of waking up and walking over to the starting line (that would have been so nice), I'll sleep in. Maybe make myself some it's-ok-your-not-running-today gluten-free and sans-nut protein pancakes and look up some other races I can do a few months from now. Doesn't sound so bad when you put it that way.
In the meantime, good luck to everyone that will be running through my borough! A special good luck to Kaitlin over at California Endless Summer who will be rocking my bib for me. This race is still on my bucket list, so hopefully next year will be my year! 
Have you ever had to miss a race? Did you feel like you had to make up the miles?