These diabetic brownies is not only good for people with diabetes but also is perfect for people with no diabetes. I mean in simple terms anyone can  just enjoy it. Whether you have it after your healthy lunch ideas, or with your tea time or any other time you like it. There is no need to have a special time to enjoy these lovely diabetic brownies. Good stuff like this diabetic brownies should be enjoyed anytime. Anyways enjoy this great recipe of diabetic brownies from healthy lunch ideas and tell us what you make of it. And if you would share it with your friends or not.
Ingredients:
2 c. graham cracker crumbs (approximately 24 crackers)
1/2 c. chopped walnuts
3 oz. semi-sweet chocolate
1 1/2 tsp. Sweet-N-Low (6 packs)
1/4 tsp. salt
1 c. skim milk
Directions:
Heat oven to 350 degrees.
Place all ingredients in bowl; blend well.
Bake in greased 8x8x2 pan for 30 minutes.
Cut in 2-inch squares while warm.
Enjoy!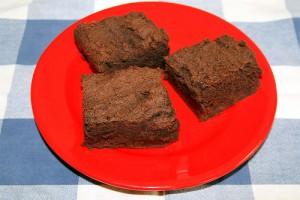 Photo by: cheeseslave