by Nina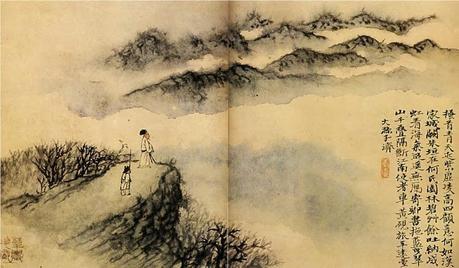 Last Hike by Shitao
In a recent NY Times article about weight loss
The Empty Diet Claim Season
, Jane Brody said something simple that I just loved:
"Make physical exercise a daily activity. Decide each day what to do rather than whether to do it."
To me that's not only good advice for people who are concerned with losing or managing their weight, it's also good advice for people like us who are concerned with staying healthy as we age. In his book
The Story of the Human Body
, Dr. Daniel Lieberman, an evolutionary biologist, says that the human body evolved to support the physically active life of a hunter-gatherer who treks miles each day to hunt and forage. And he says that many of the diseases of modern life (and aging), such as diabetes and heart disease, are the result of a "mismatch" between the environment of physical activity and food limitations that the human body originally evolved to thrive in, and the modern environment of sedentary behavior and food surplus in which we now live. So to stay healthy, we do need to be physically active on a daily basis.
I mentioned in my post  Friday Q&A: How Do You Keep Fit? that I had surveyed the Yoga for Healthy Aging writers about their exercise habits, and while we all seemed to be quite different in what we did, it turns out we had three things in common:
we exercise every day
we practice yoga asana regularly for exercise
we also do some types of exercise other than yoga
For me, each day I do exactly what Jane Brody recommends: I decide each day what to do rather than whether to do it. I usually practice yoga four days a week for 1.5 hours and take a two-hour class on Friday. Saturday and Sunday I take long walks in the city or hikes in the country, and during the week I also take walks around the city (I use my feet for transportation) to do my shopping and errands, to meet friends for lunch, or just as a way of hanging with a friend—or husband. But sometimes I like to mix it up. Why not? If it's a beautiful day, I might take a walk instead of practicing yoga. If it's dumping rain, I might stay in and practice on a weekend. I'm good as long as I get some exercise that day.
On Friday, I did recommend to the reader who wanted to get started with some gentle movement that she consider starting with short, but daily sessions to establish a new habit, and for that post I didn't want her to become overwhelmed by reading about what us long-time yoga practitioners did on a daily basis. But since I did the survey anyway, I thought it might be useful to share that information with you now so you can see several different ways of making exercise a daily activity.

Baxter's Exercise Routine
Lately, in addition to 30-60 minute home yoga practices several times a week, as well as a weekly Friday public class I attend when I am in town, I have been attempting to take a 30-60 minute walk/hike for aerobic fitness. I am also riding my bike to work when the weather cooperates, and once or twice a week I do some simple weight work at a gym where I teach to combat the sarcopenia (see Strength and Aging) that affects muscles as we age.
Shari's Exercise Routine
I do daily yoga, in the past (pre-surgery) for 30 min and currently (post surgery) it varies from 5-30 minutes. I also do daily aerobic exercise either on a bike or indoors on a stationary bike for 30 min (now it is 15 and not aerobic, with no heart rate changes but range of motion for my healing knee). I also walk daily for 30 minutes either outisde or on a treadmill. In the past I would do specific strength training on the mat with free weights for targeted muscle groups maybe two times per week (now daily as part of my knee rehab but no weights yet) and timed holds for certain yoga poses (60 seconds) to build strength and bone mass.
Ram Exercise Routine
MONDAY-FRIDAY
6.00-6.45am-GYM
7.00-7.30am-Pranayama + Meditation
6.00-6.30pm-Pranayama + Meditation
MONDAY & WEDNESDAY
12.00-1.00pm-Yoga
SUNDAY
8.00-9.15am-Yoga (I teach the class)
Timothy's Exercise Routine
I do a couple of hours of asana per day, but probably none of it would be counted as aerobic. I also sit for chanting, pranayama and meditation for more than an hour each morning. After many years of belonging to gyms and health clubs, in recent years, I've backed off from such vigorous "cardio" exercise. I always tried to get my heart rate high into the aerobic range and keep it there for 45 or more minutes and did this several times per week.  Now in addition to yoga, I do gentler aerobic exercise such as hiking, dancing, swimming and bike riding and pay little attention to my heart rate. Part of the change comes from my understanding of Ayurveda. Considering my fiery pitta nature, I believe that more soothing exercise is actually better for me. And it's a lot more fun….