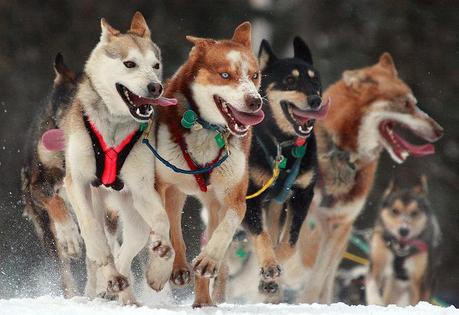 The death of a sled dog racing in the Iditarod has kicked off an investigation into exactly what happened as race organizers begin to search for better ways to protect the animals in the future. The dog, who was named Dorado, was dropped off at the Unalakleet checkpoint by rookie musher Paige Drobny and later died while in the care of veterinarians there.
Drobny says she first noticed that Dorado wasn't running well at Ophir, where she had a vet check him over but the dog was given a clean bill of health. She continued on Unalakleet but by the time she arrived there, she knew she was going to have to drop Dorado for his own safety. She handed him over to the vets in charge of that CP where he was put with a group of about 130 other dogs that were also dropped there and were waiting for a flight back to Anchorage. High winds and blowing snow grounded all flights out of small town Dorado and the rest of the dogs were forced to stay there for three days. During that time, most of the dogs were moved into indoor facilities but about 30 of them, including Dorado, remained outside. On the morning of March 15, it was discovered that Drobny's dog had died sometime in the overnight hours. An autopsy indicated that he died of asphyxiation.
It is very common for mushers to drop dogs as they travel along the 1000-mile long Iditarod trail. They may start with as many as 16 dogs but over the course of the race, some will grow tired or sick and be forced to pull out of the competition. The vast majority of the time, dropped dogs are left in the care of vets and end up back in Anchorage where they can be retrieved at a later date. The system has worked well in the past and it is actually unusual for a dog to die while racing. But this incident has Iditarod organizers thinking about ways they can improve the process.
One suggestion is to use a system similar to something FedEx or other package delivery systems use. When vets at a checkpoint take possession of a dog, they would immediately put a tag on the animal that indicated who it belonged to, where it was dropped, what meds it needs and how often it is being fed. Those taking care of the dogs could then do quick scans of the tags to determine all kinds of important information. Whether or not a revised system can be in place before next year's Iditarod remains to be seen.
It should be noted that the vets at each of the checkpoints are volunteers although they do go through a vetting process before they can join the team. That includes proving that they are licensed to practice and attending mandatory workshops prior to the start of the race. All told, there are roughly 40 vets each year, most of whom are shuttled between CP's as needed.
The mushers also do a great job of taking care of their dogs. For most of them, these dogs are like family. The race also requires that a musher arrive at a checkpoint with the same number of dogs he left the last CP with. In this year's Iditarod a musher was disqualified because one of his dogs escaped the harness while out on the trail and couldn't be found. When he arrived at the next CP, he was immediately removed from competition. The dog was later found and returned to his owner in good health.
The Iditarod Race Marshall has called the death of Dorado one of the worst tragedies in the race's 41 year history. Hopefully steps are being taken to ensure that something similar doesn't happen again in the future. The Iditarod is a fantastic annual event, but I think everyone involved wants to see the safety of these amazing dogs put front and center.