Celebrate your birthday or any day with this filling and festive dairy-free cake batter smoothie you can whip up in minutes.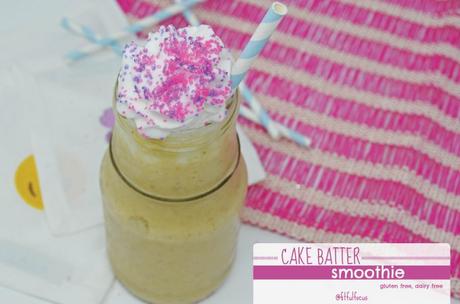 🎵They say it's your birthday! Ba na na na na na! 🎵
It's my birthday! Yahoo! Yippee! Celebrate good times, come on!
I wanted to start my birthday off on a healthy note since I'm definitely going to be eating the rest of a scoop of the dairy-free ice cream my sister-in-law got me over the weekend, but I still wanted to start the day off on a celebratory note. I also wanted to have my favorite breakfast: a smoothie.
What do you get when you combine health, celebration and a smoothie? A dairy-free cake batter smoothie!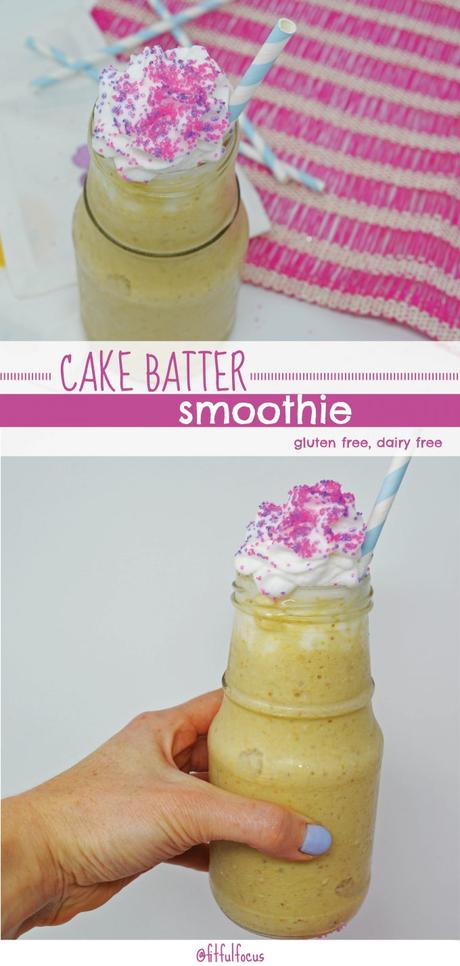 Not only does this smoothie have the thick, creamy consistency of cake batter, it also tastes like it. If I didn't tell you it was healthy, you'd never know it.
The key to the creamy consistency lies in a secret ingredient. I bet you can't guess what it is. I'll give you a second to think.
....
....
....
....
Have a guess?
It's frozen cauliflower!
The hidden veggie makes this dairy-free cake batter smoothie so thick and cake-battery, but you can't taste it at all.
Gluten-free oats add to the perfect batter texture, frozen banana adds just the right amount of sweetness and the rest of the cakey flavor comes from vanilla and almond extracts.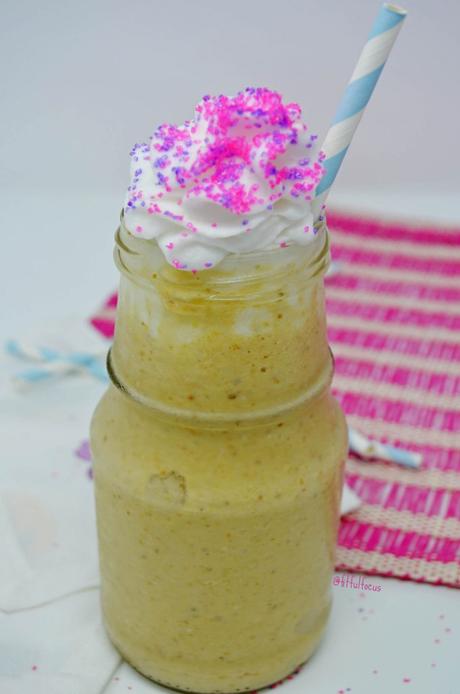 I also added some vanilla protein powder to give this bad boy an extra dose of healthy goodness and a touch more sweetness. Protein goes a long way in keeping you fuller longer, and I need to stay full until it's time for the real cake!
Of course, I don't think this dairy-free cake batter smoothie is complete without a little dairy-free whipped cream and sprinkles. It's like the frosting on top of the cake (pun intended). If you want an extra boost of celebration, you can mix sprinkles into the actual smoothie itself!
The best part is that it unlike baking a cake, this birthday treat doesn't require precise measuring, tons of sugar, or tons of time to make. Just toss everything in your blender, top it off with whipped cream and sprinkles and voila! Your dairy-free cake batter smoothie is ready for devouring.
So, are you ready to celebrate? Whip up the recipe below or check out these great birthday recipes:
No Bake Gluten-Free Cake Pops
Sugar-Free Dark Chocolate Almond Butter Cake for Two
Chocolate Brownie Mug Cake
Unicorn Energy Bites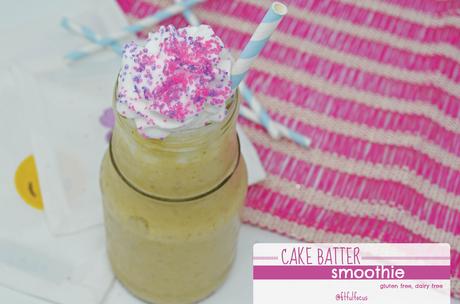 Ingredients
Instructions
Let's Chat:
What are you celebrating this week?