by Nina
Several months ago, people were complaining to me about the spam filters we had turned on for comments on our blog. Having to type the verification text in the CAPTCHA box was annoying, and sometimes it was hard to identify the letters in the box (I know, sometimes those letters get so smushed together they are impossible to read). This was discouraging people from leaving comments, even though they had important questions to ask or comments to add to a discussion.
Unfortunately, because the CAPTCHA function is automatically provided by Google (as part of the Blogger product), I can only turn it on or off, not change the way it functions. For those of you who wonder what CAPTCHA is, here is the definition from a Google web site.
CAPTCHA (Completely Automated Public Turing test to tell Computers and Humans Apart) is a type of security measure known as challenge-response authentication. CAPTCHA helps protect you from spam and password decryption by asking you to complete a simple test that proves you are human and not a computer trying to break into a password protected account.

A CAPTCHA test is made up of two simple parts: a randomly generated sequence of letters and/or numbers that appear as a distorted image, and a text box. To pass a test and prove your human identity, simply type the characters you see in the image into the text box.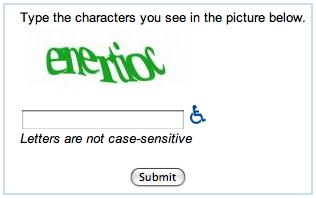 Because I was concerned about making it as easy as possible for our readers to comment, I decided to turn off the CAPTCHA function as an experiment. And what happened—you probably can guess—was that I was deluged by spam. I estimate that for every legitimate comment we receive we get at least 20 spam comments. Some days all we do get is spam. You don't see them because I moderate all comments before they are published on the blog. But the process of moderating has become more time consuming for me as a result of the spam because I carefully read all the comments to ensure that the legitimate ones do get published (some of the spam comments are pretty tricky by the way). In a way, I was willing to do this if it made it easier for our readers to communicate with us but I admit I have been getting a bit frustrated with the whole thing lately.
But the straw that broke the camel's back was hearing yesterday about the spammers denial of service attack on Spamhaus, a volunteer organization that distributes a blacklist of spammers to e-mail providers in attempt to reduce spam. See Attacks Used the Internet Against Itself to Clog Traffic. That made me feel that I really should be blocking spam if at all possible, so today I've turned CAPTCHA verification back on for our comments. Sorry about that, folks! But to be honest, I feel relieved already that I'm not going to be seeing all that stuff on a daily basis.
If you would like to leave a comment but are confused about how to do so, click on the How to Comment tab at the top of the page for detailed instructions or use this link to go to our How to Comment page: http://yogaforhealthyaging.blogspot.com/p/how-to-comment.html. If you can't read the text in the CAPTCHA box, take a wild guess. If you're wrong, you'll have second chance with a different phrase, and chances are that will be easier to read.