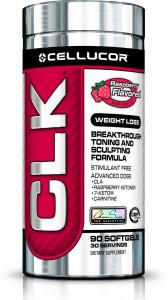 CLK by cellucor
Important: To get yourself 20% off all cellucor products visit the link right HERE
I love Cellucor products and I just read on their facebook page yesterday they have a new product coming, CLK by Cellucor.  I'll be updating this post once newer information about CLK comes out!
Quote from Cellucor Facebook Page

"Introducing CLK by Cellucor. The 4 biggest weight loss breakthroughs of the last decade all wrapped up in a raspberry flavored softgel.

Full disclosure label and clinical dosing–this is now YOUR CLA, Raspberry Ketones, 7-Keto and Carnitine product!

Girls AND Guys, add this to any stack or take by itself for a great non stimulant option…

Look for the official press release with more details Monday"

 
Stay tuned here for label and product facts soon!
CLK by Cellucor