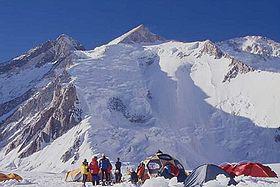 Back on February 2nd, Denis Urubko, Simone Moro, and Cory Richards completed the first winter summit of Gasherbrum II, the 13th tallest mountain on the planet at 8035 meters (26,363 ft). It was the first successful winter ascent of any of the 8000 meter peaks in the Karakoram range as well, and a spectacular accomplishment to say the least.
The trio has posted a number of video dispatches to the North Face Journal, a blog that covers athletes sponsored by the gear manufacturer. Amongst those dispatches are the two videos below, one of which shows the amazing ascent to the summit and the other is of the equally treacherous descent, during which they were beset by avalanches. Both videos are beautifully shot, which is amazing in and of itself, and both are excellent examples of what high altitude mountaineering is all about.
GII Winter Expedition | Dispatch # 4 | The way up to the summit from story.teller on Vimeo.
GII Winter Expedition | Dispatch # 5 | The long way down from story.teller on Vimeo.