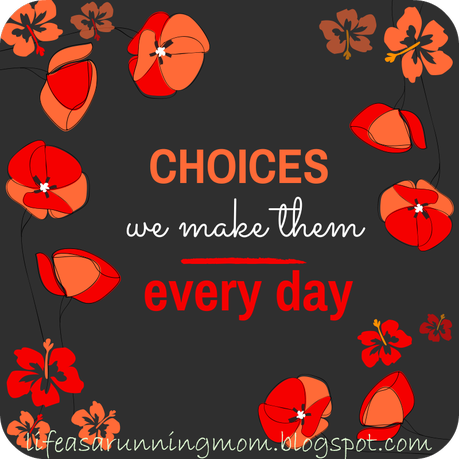 Each day we make a zillion choices. Okay, I never counted how many choices I make every day but there are a lot. What to wear. When to wake up. What to run. When to run. What to have for dinner. What to make for lunches. But these are the easier choices. There are the deeper ones. The choice to not get mad. To not let a worry weigh heavily on you. To put the worry into Higher hands and have faith. To forgive. To really forgive and forget. And then there are the choices we probably don't think about much. To smile or not to smile. To pay forward kindness. To be patient and understanding. To listen with full attention. To use caring words. To encourage others. To be supportive. To be loving.
As I type I have the choice to continue giving examples or to get on with my point. And my point is that we all have choices and it is perfectly fine to choose different things. I read
a post
the other day that aligned with my own feelings about the winter Olympics - yep, they just aren't as thrilling to me as the summer games but I still had the choice to watch or not. I watched. Some of it. And I encouraged darling daughter to watch some although she would always initially resist. Cartoons seemed more appealing but she got into the games....
to an extent.
Why did I want her to watch them? There are probably three  motivating factors - one I remember watching them as a kid and want her to have those memories, they don't happen every day, and the tell the story of different athletes and sports reaching for their dreams.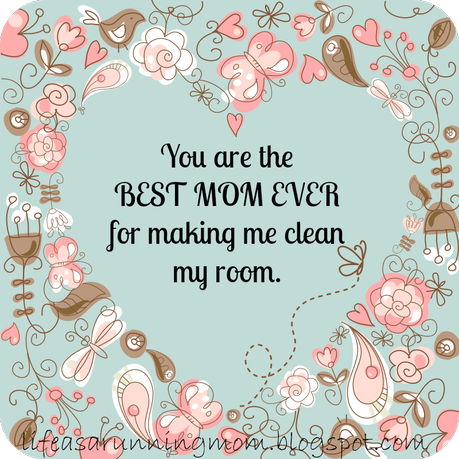 Words I may never hear again
I also make the choice to lead by example and encourage darling daughter to learn what she should be
kinda, sorta
. The first time she resisted and afterwards said she was happy with how clean and pretty her room was now. The second time, just a couple of days ago, she really resisted and I said, okay, I will set the timer for 10 minutes. You just need to clean for 10 minutes. The timer went off and she stayed in her room and that made me think, I hadn't heard a peep from her in quite awhile. What is she up to? I looked in and she was cleaning! In the time she was silently cleaning I was in the kitchen feeling like the worst mom ever making my little girl clean her room when coming home from school. I questioned if I was being too firm and unrealistic. Long story short, darling daughter came out of her room for a snack and told me I was the best Mom ever for making her clean her room.
(I seriously doubt she will be saying the same thing when she is 16 and I ask her to clean her room.)
She was excited about finding "
lost
" toys and being able to walk around her bed again. She finished her snack to go back to cleaning. I chose to feed the pets for her since she was going above and beyond in her chore.
learning and now that she is six, cleaning her room is part of the ticket. She always resists. Okay, I have only instigated two big cleaning moments since she is pretty good at cleaning up along the way....
Final example, I chose to run and do yoga every single day. Some days I am not as thrilled to start my run but I never regret running. In fact, it always makes me feel better. Always. without fail. And I have the added the benefit of setting a good example for darling daughter. In fact just last night she told me she wanted to start doing morning yoga. She added that she needed to wake up a bit earlier to ensure she has time 
(in all reality, she already wakes up with plenty of time)
. She asked if I could teach her a few moves. Oh yes I can! I look forward to teaching her something - perhaps a bit of sun salutation?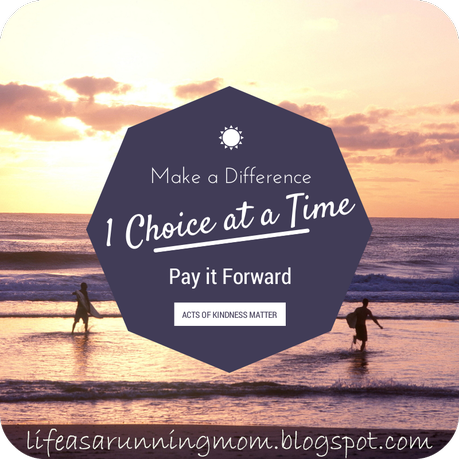 Choices. We make them every single day. My goal is that my choices make me and my family happier. My wish/dream is that our happy family will be able to start of ripple of happiness that can spread around the world. Each day I choose to keep trying. What choices do you make?
Daily Gratitude: I am thankful for the poem darling daughter wrote me yesterday. I really should share it with y'all sometime.
Daily Affirmation: I am setting a good example for darling daughter.