Whether you need an afternoon pick-me-up or breakfast on the go, these no-bake Chocolate Covered Espresso Energy Bites are the perfect way to refill your tank.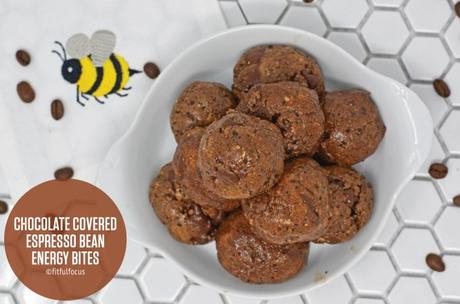 This post is sponsored by NuZest in partnership with Fit Approach.
The first thing I do every morning, after giving Moose, Kevin and Will good morning kisses is make a pot of coffee. I need that nice warm cup of caffeine before I can really do anything productive. Usually two big cups in the morning keeps me going all day, but every now and then I hit that afternoon slump.
Sometimes I'll brew more coffee, but an afternoon coffee isn't quite as satisfying as that morning cup. I also usually crave a late afternoon snack, so I thought: why not combine my coffee craving with my snack craving? Before I knew it, these Chocolate Covered Espresso Bean Energy Bites were in my belly, filling up both my hunger and energy tanks.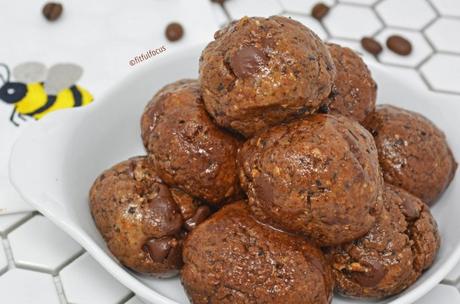 What's in a Chocolate Covered Espresso Energy Bite?
Almost all of my energy bite recipes have some sort of nut base. I always have almonds and cashews on hand, so that's what I used for these buzzy babies. Almond butter and honey act as the "glue" that holds these bites together, while whole espresso beans create that espresso flavor, naturally. There are just enough espresso beans to taste like delicious coffee and deliver that little pick-me-up without making me come down with a case of the afternoon jitters.
While I fold in a few dairy-free chocolate chips to the energy bite dough at the end of the recipe, the bulk of the chocolate flavor comes from a new-to-me pea protein: Nuzest.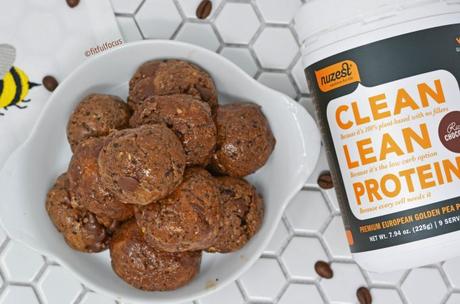 Tell me about Nuzest
You got it.
Nuzest Clean Lean Protein is made from premium European gold pea protein and has a complete amino acid profile (meaning it has all 9 essential amino acids needed to grow and repair the muscles) on par with whey protein. Unlike whey protein, however, Nuzest is dairy-free, vegan, paleo-friendly and easy to digest. It's also gluten-free, nut-free, soy-free, egg-free and non-GMO. WHEW! That's a lot of free's!
One serving of Nuzest Clean Lean Protein (Rich Chocolate) has 90 calories, 2g carbs, 1g fat, 19g protein and 0 sugar.
Adding 1/2 of cup of this delicious protein powder to my Chocolate Covered Espresso Energy Bites not only gives them the perfect, not-too-sweet chocolatey flavor, but it also gives them a boost of protein to keep me fuller longer. So I have a snack that fills me up and gives me a caffeine boost. Wins all around!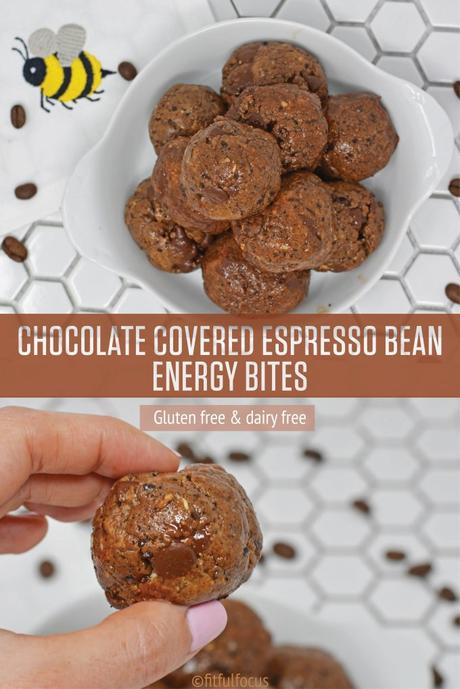 Want to give Nuzest & these Chocolate Covered Espresso Energy Bites a shot? Use code FITFULFOCUS at Nuzest-usa.com for 15% OFF your order!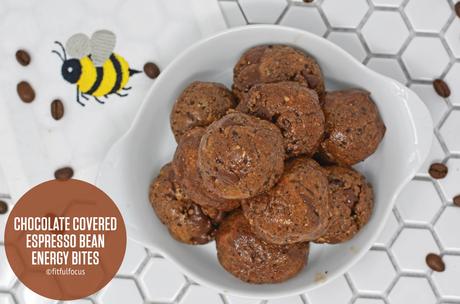 Ingredients
Instructions
Let's Chat:
What's your favorite afternoon pick-me-up?