These paleo, dairy and gluten-free chocolate covered banana bites will make the perfect bite-sized dessert for your first summer get together.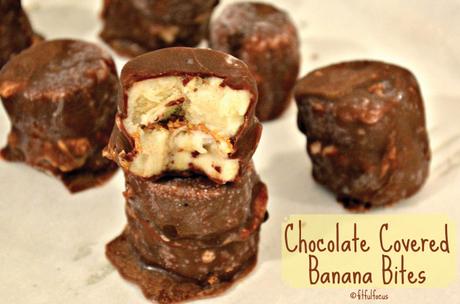 I don't know what it is about me, but I love a little something sweet after dinner. I mentioned this before when I made Almond Butter & Jelly Fudge. I try to keep it small, though sometimes a big 'ol bowl of "nice" cream calls my name. Anywho, I've made my way through the fudge stash, so I made it my mission to create another healthy bite-sized dessert to enjoy at the end of the day.
Lucky for me, this month's Recipe Redux theme, Small Plates for Sunny Days, fit right into my recipe brainstorming. Here's the gist of this month's theme:
Small bites are perfect for trying many different tastes. Take tapas style eating outside for al fresco dining or a simple picnic. Or maybe you're serving small bites at a bridal or baby shower or a graduation party. Show us your healthy take on small plates and finger foods.
Before we get into the recipe, be sure to check out some of my past Recipe Redux Recipes here, here and here. They're all healthy, delicious and nutritious!
Ok, so recipe requirements as I brainstormed:
Sweet yet healthy
Minimal ingredients
Wouldn't require a special trip to the grocery
Allergy friendly (paleo is a plus)
Per the theme (and my waist line), it should be a small bite
I perused my kitchen and decided upon a simple yet amazing concoction: Chocolate Covered Banana Bites!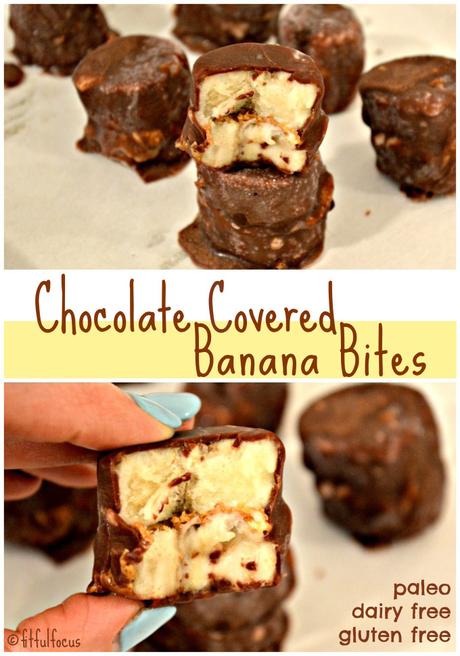 Sweet yet healthy? Check! The banana combined with a tiny amount of vanilla stevia in the chocolate coating make these bites just the right amount of sweet, and with only 5 simple ingredients (banana, unsweetened cocoa powder, coconut oil, natural almond butter and vanilla stevia), no one can argue with their healthy nature.
Minimal ingredients? You can count 'em on one hand. Check!
Wouldn't require a special trip to the grocery? Check! All of these ingredients are staples in my kitchen. Easy peasy.
Allergy friendly? Check! These bites of heavenly heaven are gluten, peanut, soy, corn and dairy free. They're also vegan and paleo. Boom.
Small bite? Check! The only thing I have to make sure of now is that I only have one!
Oh and bonus - they're the easiest thing to make! Don't believe me? Check out the recipe below.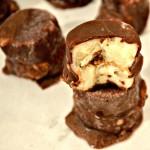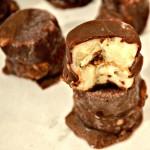 Want more small plates and bite-sized concoctions? Check out all the other delicious Recipe Redux recipes from the bloggers below!

Let's Chat:
What's your favorite bite-sized dessert?
This post is linked up with Meatless Mondays.