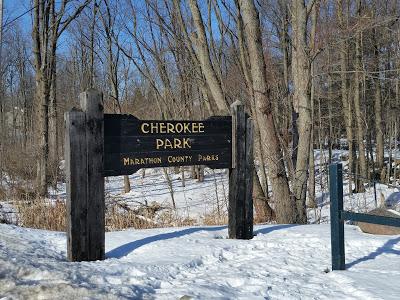 I've driven past the sign leading to Cherokee County Park numerous times on trips between Wausau and Minneapolis on Hwy 29, but never felt compelled to pull off and check it out. I used to have a stronger sense of adventure, but sometimes I'm left feeling disappointed and almost ripped-off when I follow a sign to a new destination only to find it is not scenic or fun at all.
But a recent post on the Women Hiking Wisconsin Facebook Group suggested this park as a "hidden gem." So, of course, I had to take a look for myself.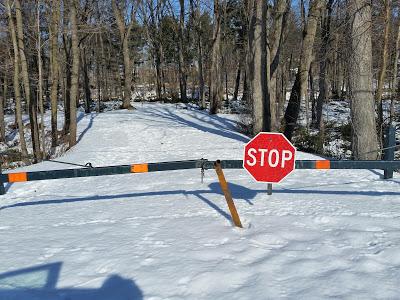 Charlie, Alan and myself ventured out on Saturday since the park was only about a 30-minute drive from our place. Upon arriving, we found that the parking area is closed off and not maintained in the winter, but the snowplow had "swooped" into the drive enough to make one parking space along the side of the road.
We parked and kept Charlie in the vehicle away from the traffic zipping by at high speeds while we put on our snow shoes and then leashed her up and trekked around the gate down to the park and trail head.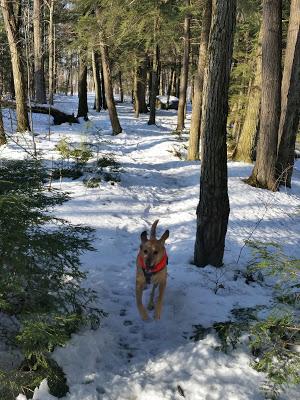 The Big Eau Pleine River was silent, sealed in ice and capped off with snow. But the rounded "marshmallows" of rocks covered in snow whisper of babbling and roaring of water when winter releases its grip on the river.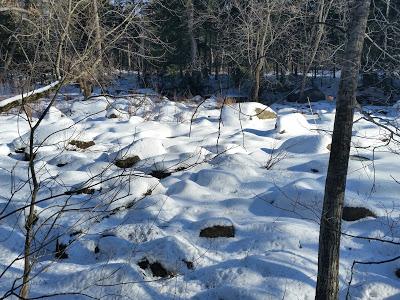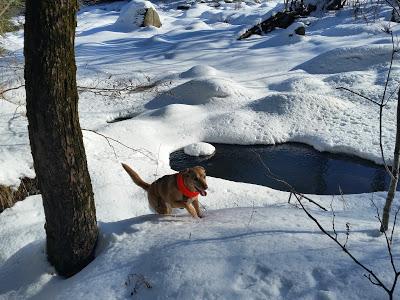 The scenic trail meanders along the river's shore for about a mile and then runs into private property, where we turned back.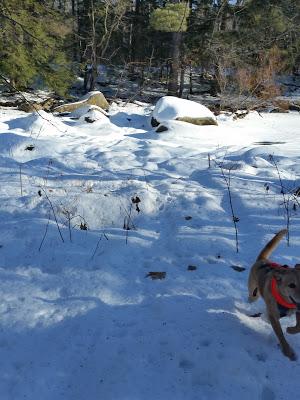 The park definitely has some great amenities once the weather warms up and it's open again... a playground, picnic shelters, restrooms and a scenic spillway/dam that allows some access to view the river from water level.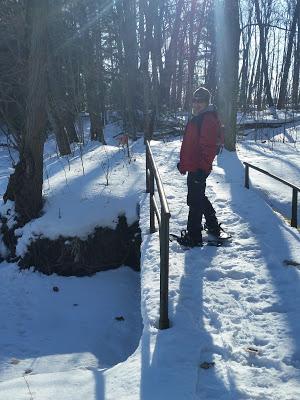 I'm super excited to keep this park on our list of options once the weather warms up. It's far enough away from populated areas that I think it'll be a quiet respite from other busier and well-known parks.
This truly is a hidden gem!