I recently did a video review on Cellucor Creatine and I also wanted to follow it up with a quick written review as well. The informative video will be linked at the bottom of this post. Most if not all your questions will be answered in that video as it's about 21 minutes long! Simply because there is a lot of information I have to share with you and I'd rather you watch and listen then read 5 pages of text

. What a nice guy I am! This product was sent to me by Hank from Cellucor so I appreciate the opportunity to give this product a review and try it out! Thanks again!
Cellucor Creatine Review:
So I'll be honest and rate this product on how I feel it worked for me. Remember that creatine and especially Cellucor Creatine is a product that will not give immediate results like taking C4 Extreme (caffeine !). You will see the benefits in the long-term as your weights and reps naturally increase due to creatine levels in the blood and muscle fibers. With that being said this written review is based after two servings of cellucor creatine.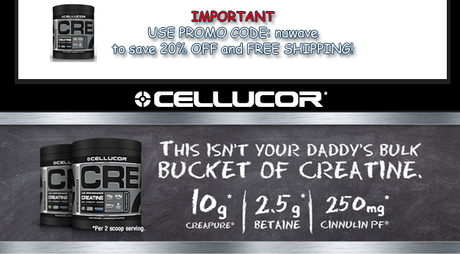 Effectiveness –  ?/10
While I'm unable to really give this an effectiveness rating I would have to say it does the job like most creatine monohydrates. Cellucor trademarked the name Creasorb and put two types of salts that are water-soluble and attract creatine to water making it easier and faster to absorb the creatine. Well that's the theory at least, it might actually be true but I can't find scientific studies backing up the claims. So we'll have to wait and see on this one.
Flavor – 10/10 (Unflavored Creatine & Cinnamon Taste)
While Creatine Monohydrate usually has no taste and no smell, I did have a mild cinnamon taste and some saltiness to this product. Reason being is because the fact it contains 125mg of Cinnulin PF(patented name for cinnamon bark extract) and also some added salts (disodium phosphate and dipotassium phosphate). All in all simply mix this in any of your favorite drinks or post workout shake and you're good to go.
Mixability – 9/10
Creatine monohydrate tends to sink to the bottom of water when added no matter how much ingredients you add. I did notice that Cellucor Creatine seemed to have less grit at the bottom than my natural creatine monohydate without any additives. Still its up to speculation if there is a big difference in mixability versus bulk creatine and cellucor creatine.
Value – 6/10
This retails for 39.99$ for 50 servings, I recommend just to take 1-2 scoops daily (ideally 1 scoop per day) which will give you 50 days worth of supply which comes out to about 0.79$ per scoop. Which isn't too bad when you look at it in the end. If you click the link here you'll be able to buy Cellucor Creatine and also get a 20% off promo code and free shipping making this product come out to 31.99$ making the cost per scoop 0.64$ so pretty good savings in the end

In the end Cellucor is a top quality premier supplement company and you pay for the name and high quality profile. If you want something generic and maybe cheaper than by all means go with bulk creatine monohydrate.
Cellucor Creatine Review
Want to buy Cellucor Creatine? Click HERE to be taken to our supplement page so you can purchase and get a 20% off promo code making this one of the cheapest deals online!