Cellucor is doing it up big with their BCAA claiming to have 'TruFacts' which means no more proprietary blends???!! This is a huge statement, while Cellucor isn't the first company to do this it's definitely a step in the right direction to building a strong customer relationship. Cellucor BCAA according to early reports says its going to have a total of 10g of BCAA, how much that is right now is unknown since the product hasn't officially launched yet as of this posting.
**Important: To get yourself 20% off all cellucor products  enter promo code 'nuwave' upon checkout. You'll save 20% and FREE shipping if  in the USA!**
Cellucor BCAA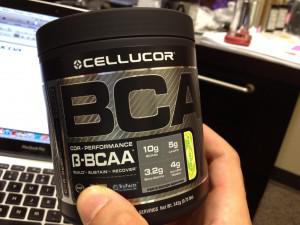 Click to Enlarge
Cellucor BCAA (Branched Chain Amino Acids)
The main goal of BCAA's are to replenish your body of essential amino acids lost during exercise and to prevent catabolism,prevent muscle tissue breakdown and promote a more 'anabolic' state.
This is what we know so far about Cellucor BCAA. Based on the picture's weight and how many grams of supplements we got I'm estimating a 30 serving container but I may be wrong we'll find out!
10g BCAA
3.2g Beta Alanine (1.6g per scoop)
5g Leucine
4g Citrulline Malate (Ideal recommended is 6g but hey its better than nothing!)
*Per 2 scoops serving*
Judging by their Facebook sneak peek of the product at least one of the flavors will be Lemon Lime. I'm not a huge citrus fan myself but Cellucor has always been great with their flavors and I have no doubt that this new addiction with Cellucor BCAA will also be amazing!
Stay tuned to this page for updates on when the product goes live and dont forget to use the promo codes to save you BIG $$$ when this Cellucor BCAA product launches!
**Important: To get yourself 20% off all cellucor products  enter promo code 'nuwave' upon checkout. You'll save 20% and FREE shipping if  in the USA!**
Cellucor BCAA