by Ram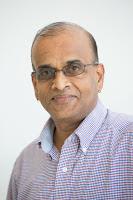 For those that do not know me, I am Ram Rao. I hold a PhD in Neuroscience and was a Research Associate Professor of Neuroscience at the Buck Institute for Research on Aging, Novato, CA. In addition to my neuroscience activities, I am also a NAMA Board-Certified Ayurveda Practitioner (AP), a registered yoga teacher (RYT-200), and teach Ayurveda and Yoga at the California College of Ayurveda. I have published several articles in major Yoga/Ayurveda magazines and have spoken at several meetings and symposia on Yoga & Ayurveda. Dr. Brad Gibson, who is also a writer for this blog, and I focused on different aspects of aging at the Buck Institute, but we both shared an underlying passion: yoga. That passion facilitated my entry as a blog writer to Yoga for Healthy Aging (YFHA). The official
welcome article

by Nina featuring me appeared Jan 1, 2013.

My first blog article

appeared Jan 02, 2013 when I wrote the rebuttal to William Broad's claim in the New York Times that yoga is "remarkably dangerous" for men. Since then and until December 2018, when Nina announced taking a long break, I contributed more than 100 articles pertaining to yoga philosophy and practical yoga, and to yoga's relationship to aging, lifespan, emotions, brain health, physical aspects, and chronic health conditions.
When Nina decided it was time for her and the blog contributors to take a long break, I did not have to pause for long. Accessible Yoga liked my articles in the Yoga for Healthy Aging blog and asked me if I could contribute articles to the Accessible Yoga's blog. Accessible Yoga's (AY) mission is to promote yoga for people with disabilities, underserved communities, and more. I readily agreed and contributed several articles on yoga and its benefits for degenerative conditions.
I also used the time to complete my book Good Living Practices (GLP). I had been thinking about and researching the contents for this book for nearly 5 years, and the book was published just when the governor of California, where I live, issued orders to shelter in place. My primary reason for writing the book was to emphasize that optimal health and wellness comes from interventions that keep the body-mind-emotions in sync as one unit. It is important to understand that as humans we are not just the physical body and any associated symptoms, but also the mind and emotions. These three entities with their associated tissues, organs, blood vessels, nerves, channels, hormones, chemicals, thoughts and emotions are tightly linked and work in tandem. I utilized my background as a neuroscientist, yoga instructor, and Ayurveda practitioner to describe a variety of good living practices that anyone could choose from to incorporate into their daily living for optimal health and wellness.
Meanwhile Accessible Yoga decided to invest their time and energy on live events and workshops, and Nina was seriously considering restarting the Yoga for Healthy Aging blog. Naturally, with my pen, notebook, laptop, and all, I made my homeward journey to YFHA with the same zeal and enthusiasm. You can now look forward to my articles on application of yoga and yoga principles to all facets of life. The first couple of posts will focus on the pandemic explicitly and I will draw suitable examples from my book of what you can do to experience optimal health so that anyone needing help would really know where to start. Until then, namaste!
Check out my book Good Living Practices which is available as a paperback on Amazon, Barnes & Noble, Copperfield's Books, and other online bookstores and Get Ready to Feel Good Again!
S
ubscribe to Yoga for Healthy Aging by Email ° Follow Yoga for Healthy Aging on Facebook ° 
To order Yoga for Healthy Aging: A Guide to Lifelong Well-Being, go to Amazon, Shambhala, Indie Bound
or your local bookstore.