by Baxter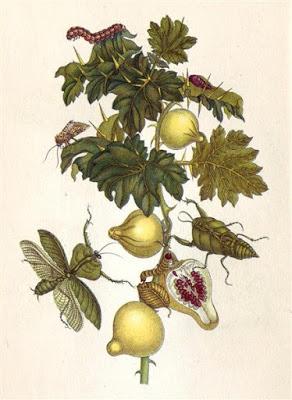 Musa paradisiaca by Maria Sibylla Merian
After reading Nina's post False Claims Harm Yoga, I got interested in finding the scientifically grounded information about how yoga can assist in the treatment of diabetes. One of the first studies that popped up was a recent study in China called Effects of 1-year yoga on cardiovascular risk factors in middle-aged and older adults with metabolic syndrome: a randomized trial. that looked at a one-year practice of yoga and its affect on metabolic syndrome, which has as one of its factors for developing heart disease the presence of elevated blood sugar levels, or hyperglycemia. (The presence of hyperglycemia could mean the person with metabolic syndrome has diabetes.)The paper mentions that many of the lab values the researchers followed did improve over the course of the study, including waist circumference. They did not specifically mention a reduction on blood sugar levels, however. 
Curious about what reputable websites on diabetes management might be recommending, I found this article from the Joslin Diabetes Center's website (a Harvard-affiliated center), written by two of their staff Clinical Exercise Specialists, who say, when discussing the benefits of yoga:
"In addition, some reports suggest that because yoga can decrease stress, it may be helpful in controlling glucose levels in people with either Type 1 or 2 diabetes."
At this center, they have an exercise program that has recently added gentle yoga to the tools they use, and they say: 
"Joslin's Why Wait? Program is a one-of-a-kind program that was created to address the unique weight-loss and weight-control needs of people with type 1 and 2 diabetes. The newest addition to the program is a gentle yoga practice that emphasizes the importance of the body-mind connection, and introduces participants to various forms of yoga."
Hmmm, no mention of stopping your normal treatment and only doing yoga to treat and or heal diabetes. And although there have been quite a large number of studies looking at yoga and

t

ype 2 diabetes, this NIH sponsored review article Yoga Practice for the Management of Type II Diabetes Mellitus in Adults: A systematic review tried to tease out those studies that meet our modern criteria for well designed studies. Only five qualified, with a combined total of 363 participants. They did find the following short-term benefits:
Fasting Plasma Glucose Levels: Four studies provided results on FPG. These studies provided favorable results for the intervention in lowering FPG.
Glycolated Hemoglobin: This blood test is used routinely to monitor the overall average sugar levels in the blood over a more extended period of time. Three of the included studies reported the value of HbA1c. The mean differences indicated that the intervention lowered the level of the HbA1c. However, the results were only statistically significant in the one study.
Cholesterol Effect: Three of the included trials reported an effect on lowering cholesterol level, including increasing HDL and lowering Triglycerides (both directions of change considered beneficial for heart health).
Weight and Body Mass Index: There was minimal drop in one study that was not statistically significant.
Diabetes-Related Complications: Only one study looked at this, and looked at nerve conduction rates in the arms of participants (would be related to the development of peripheral neuropathy in DM), and showed a small statistically insignificant change. 
The authors concluded there is some evidence from well-designed studies (the give reviewed here) that there are some short-term benefits from yoga (listed above). They could not make any comments on the long-term benefits of doing yoga, as the studies did not address this important consideration. They noted lots of quality issues even with the five studies they were able to include in their review of all the yoga and diabetes research that had taken place through 2007. And due to the results, they concluded:
"A definitive recommendation for physicians to encourage their patients to practice yoga cannot be reached at the present."
"The important recommendation that can be drawn from this systematic review is the need for well-designed large randomized clinical trials to assess the effectiveness of yoga on diabetes type II."
As we have noted about so many other reviews of studies, we have a ways to go with yoga research! But I feel if we expand the overall benefits of yoga for things like stress management, there is certainly no contraindication for someone with diabetes starting yoga, and lots of potential positive benefits on overall health and well-being. 
The Takeaway
J

ust to be clear, dear readers, I
personally

do believe that yoga can be beneficial for diabetes. For example, diabetics can develop numbness in their extremities, which often affects balance and increases the risk of falls. So working on balance poses and circulation practices could lessen the chances of falls as well as

help maintain

better heart health and circulation, which might slow down this negative consequence of diabetes. Similarly, the mindfulness of yoga could improve dietary habits, allowing the person with diabetes to make better food choices, which could improve blood sugar control and even help with weight loss, which is particularly helpful in

t

ype 2

d

iabetes. 
But what I cannot say is that yoga will always or even usually do these things for sure, because we have not studied them closely yet.

That

does not mean that someone with diabetes can not safely start yoga and add it to what they are already doing to improve their health. And our friend Melitta, who has type 1 dia

betes,

has already tes

tified

about the benefits that stress management provides for someone with diabetics or anyone else living with a chronic disease (see Aging, Diabetes and Yoga

).
And to provide some support to Nina's assertions that the untrue promotion

of

yoga as a substitute for medical treatment and lifestyle interventions is dangerous, I'll add that none of the researchers even hinted that yoga replace modern treatment, let alone "heal" diabetes!

t

ype 1 diabetes is not curable, and those with

t

ype 2 can eventually gain control of normalizing blood sugar levels to healthier ranges with a combination of medical tools and lifestyle practices, but when these tools are skipped or stopped, the symptoms and problems of diabetes will once again show up. 
My take: For people with a new or established diagnosis of

t

ype 1 or 2 diabetes, certainly add yoga to your health regime to see if it helps your diabetes specifically over time. And then let us know what you discover! 
Subscribe to Yoga for Healthy Aging by Email ° Follow Yoga for Healthy Aging on Facebook ° Join this site with Google Friend Connect