Writing a post today to talk about C4 Extreme pre workout and their new flavor Sweet TEA! I was pretty excited to try it and my girlfriend actually the one who bought this. She was kind enough to give me a few scoops worth of C4 Extreme Sweet Tea so I could try it myself! I've tasted almost all the other flavors but with this being the newest I had to be the guy to find out if it was really good. Of course all this is personal opinion and it didn't really turn out how I wanted it to but hey the flavor is still decent in my book.
C4 Extreme Sweet Tea: Honest Review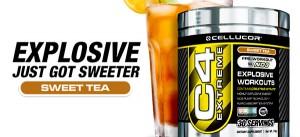 Click above to purchase your sweet tea today! Use promo code: nuwave for 20% off
EFFECTIVENESS – 8/10
As always the personal effectiveness level of this pre workout is high for me. Thats why C4 Extreme is my favorite pre workout, I usually mix 1-2 scoops depending on how I feel and workout about 20min-40m after. As you get more used to it the effects will start to feel like their fading or lessening. This could be a sign that you might want to try to stop using it for 1-2 weeks. It gives your body some time for the caffeine to lower back down to levels so you dont need more scoops to feel an effect.
FLAVOR – 5/10 (SWEET TEA)
Personally I wasnt a big fan of C4 Extreme Sweet Tea flavor. It might just be me but I'm a southern boy (born in Louisana) so I know the taste of real sweet tea. This just tasted very artifical and almost mango to me instead of sweet tea. I actually did a comparison of Litpon Instant Iced Tea vs C4 Extreme Sweet Tea flavors which you can find below to get my opinion of which is the best.
MIXABILITY – 9/10  SPOON USED ONLY
C4 Extreme always mixes great only reason I didn't put a 10 is because nothing is really perfect as there is still some ingredients that are left at the bottom. Namely the creatine since that cant really be fully absorbed in water.
VALUE – 8/10
The price of C4 Extreme ranges from $30-$50 depending on the serving size you get(30 or 60). Overall it's a good deal and if you choose the 60 serving using my promo code on the cellucor website you get 20% off and free shipping (this code only work in USA). So you might want to try it out for yourself to see if this would be your next favorite flavor.  Buy C4 Extreme Sweet Tea today with promo code: nuwave 
As for me I'm still going to stick with Green Apple #1 in my book!
Thanks for reading or watching my review of C4 Extreme Sweet Tea!