Summer is in full swing; long days, bright sunny skies, warm nights and time to get together with friends. What I love most about summer is entertaining! Having friends and family over, opening up that bottle of wine, eating delicious food and sitting by the fire.
This is one of those salads that you can make ahead and it will make most people happy! It's vegan, and you can easily change up the flavors or add some extra spice to it. This salad really feels like summer entertaining to me. Hearty brown rice, fresh cucumber and mint and a bit of sweetness from the dressing. So delicious.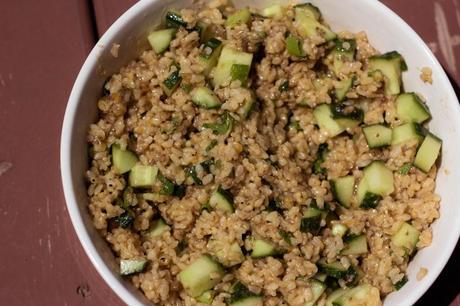 Brown Rice Salad with Orange Chia Vinaigrette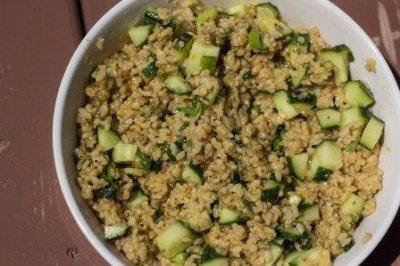 Prep Time: 10 minutes
Cook Time: 50 minutes
Keywords: salad vegan gluten-free
6063486
Ingredients (Serves 6-8)
1 cup brown rice (I used gluten free)
Salt/Pepper
1 English cucumber, diced
2 scallions, finely sliced
3 tbsp chopped mint
1 tsp orange zest
For the Dressing
1/3 cup fresh orange juice
1/4 cup olive oil
2 tsp chia seeds
1 tsp orange zest
Salt/Pepper
Instructions
Cook rice according to directions, add about 1 tbsp rice wine vinegar and let cool.
In a large bowl combine cucumber, scallions, mint, and rice. Top with salt/pepper and vinaigrette.
Refrigerate for 2-3 hours and then serve.
For the Vinaigrette
In a medium bowl whisk juice, olive oil, chia seeds, orange zest and salt/pepper. Let stand for 20 minutes before pouring over the salad.
Powered by Recipage The winners of the Vitamin Shoppe Giveaway were: Mo and Renee. I will email you!