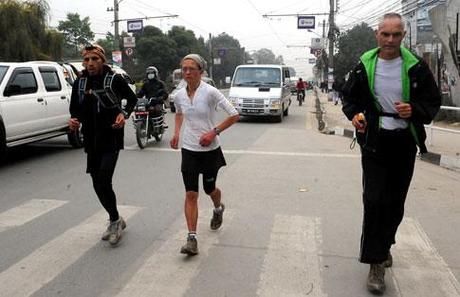 British ultrarunner Lizzie Hawker has set a new speed record from Everest to Kathmandu, by running from Base Camp to the capitol of Nepal in just under three days. Hawker started the run last week and finished the 320km (199 mile) route on Friday.
Officially, Hawker's time was recorded as 2 days, 23 hours, 25 minutes, which shaved a bit of time off her previous record, which was set back in 2007, when she made the same run in 3 days, 2 hours, 39 minutes. Her latest time includes an unexpected stop over in the village of Bupsa, where Hawker spent 8 hours waiting out the rain. At that point she thought her chances of breaking the record were slim, but she managed to get back on the trail and make up the time.
Perhaps even more impressive, Lizzie, who is amongst the top ultrarunners in the world, completed the run without sleep and while suffering from what is described as a chest infection, which she contracted while on the Everest Sky Race. My guess is that she had a bad case of the Khumub Cough, which I can tell you from my own experience is quite nasty. I don't envy her on that run.
Considering the trek from EBC to Lukla takes about four days by itself, this is super-impressive. Most of us then board a plane and fly back to Kathmandu from Lukla, but Lizzie kept on running, finishing up the whole journey in under three days. Amazing.
Thanks to Outside Online for the tip on this one!