by Mary Ann O'Gorman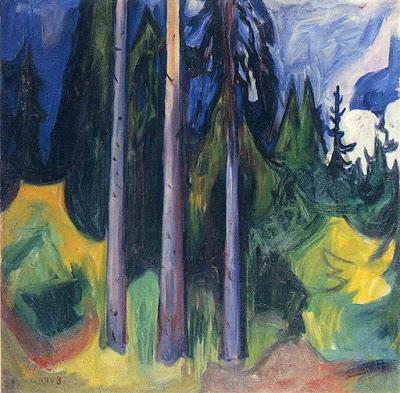 Forest by Edvard Munch
My introduction to pranayama was through asana, coordinating breath with movement, something comfortable to me since I am a lifelong swimmer. But the traditional pranayama practice is a stand-alone practice, distinct from "moving with the breath." Alternate Nostril Breath, internal retentions, external retentions, Skull-Shining Breath—all have challenged me, quite often causing discomfort or, worse, anxiety and fear. According to T.K.V. Desikachar, in Patanjali's Yoga Sutra 2.52 we are told that:
"the regular practice of pranayama reduces the obstacles that inhibit clear perceptions" To me, the formal practice of pranayama is an invitation to step outside of the physical body and into something larger. I suspect that this invitation out of the familiar body and into the unknown has been the source of my own discomfort.During this pandemic, my attention has been on my breath more than usual. I have spent most of the last ten months on fifteen acres of woods, aware that my exhalations support the surrounding trees and that they, in turn, support me. I've been teaching yoga online, unable to hear my students' breathing, able only to coach and remind them to breathe as I remind myself to simply breathe and to appreciate each breath.As a yoga teacher, I have more than once experienced the amazing moment in an asana class where we move and breathe as one. It is a fleeting moment, more powerful perhaps due to its mercurial nature. Now, through the pandemic year of 2020, I have found the memory of that moment to be sustaining in helping me connect with not only my online students, but with a close friend who was suffering through Covid-19 and whose husband had been placed on a ventilator.My friend, C., and her husband, J., live over one thousand miles away. Covid-19 protocols replaced normal, human protocols so upon her husband's hospitalization, C. could not visit him. There were no conferences in a hallway with a doctor and her adult sons. I could not fly up to make sure there was soup and tea when they came in from the hospital. When I asked her what I could do, what physical actions I could take, she asked me to pray for her and for J.C. and I were raised in the Catholic tradition, but even though I'd left the church decades ago, being asked to pray with someone is, for me, the same as being asked to share a meal graciously offered. Even if the meal contains items that I have sworn off, I accept it in the spirit it is offered. I promised, in all sincerity, to pray for my friends.I turned to my pranayama practice, challenging as it is, to find the way to join with the spirit of my friends and to find a path to clear perception, as promised in Sutra 2.52. Every day I would sit with deliberation, facing north in their direction. I'd breathe with my friends, imagining that we were, in a way, moving through this difficult practice together. I kept my body as still as I imagined theirs were, J. on the ventilator, C. waiting for the hospital to call. I practiced internal and external retentions, allowing my breath to strengthen my lungs and asked that they would, also. The obstacles of space and time that inhibited my clear perception of their experience were, during brief moments, eliminated as I focused on my controlling my breath.Knowing that my exhalations supported the trees around me, and that the trees supported the inhalations of the next human who stumbled upon them, and that this cycle could continue for the thousand miles between my friends and me, made me feel the incredible connection and power that the act of pranayama could bring. I was not saying prayers. I was not praying in the tradition that C. and I grew up in. But I was dedicating my pranayama practice to understanding that, over and above the obstacles of being in this limited human form, subject to time and space and viruses, I was able to participate in something larger than my limitations. I sat still; my breath was not coordinated with asana. I was dedicating my pranayama practice to the understanding that all of us were participating in something larger than our regrets over past action or inaction, worry over the path of the future. J. on a ventilator was part of something larger. C. in her lonely house was part of something larger. The limitation of our human forms could actually be a gate to understanding the vastness of existence in sitting still and following the breath.J. did not make it off the ventilator. My friend's sadness has overwhelmed her, but she continues to move into her new way of living with grace. I sit daily with my breath, sending her this small offering to remind her, and me, that breath is not something that I get to own or simply practice. My breath is not a support to my practice as a physical being, but is part of something more eternal than my limited form. My breath, in a literal sense, is put out into the world to support life. More than a metaphor, my breath is part of the chain that connects me to all beings.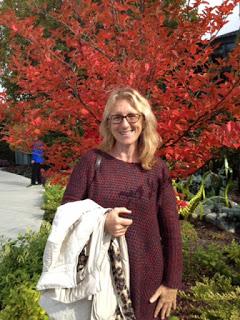 Mary Ann O'Gorman, M.A., M.F.A.,Yoga Alliance Certified Teacher E-500, teaches yoga and writes in southern Mississippi. She also runs a small retreat center there, Twisted Run Retreat, where writers, artists, musicians, dancers, and yogis take time in nature to reconnect to their life's work.
Subscribe to Yoga for Healthy Aging by Email ° Follow Yoga for Healthy Aging on Facebook ° To order Yoga for Healthy Aging: A Guide to Lifelong Well-Being, go to Amazon, Shambhala, Indie Bound or your local bookstore.