Jan 24, 2012 by Tatianna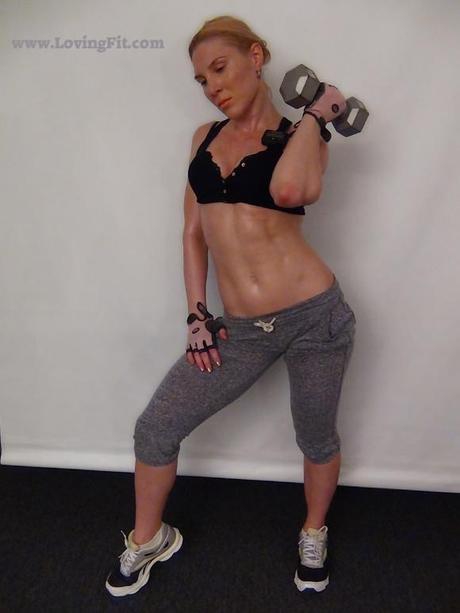 Today's workout routine was focused on the lower body and the booty

. All I was using for this workout was my
timer
, a pair of dumbbells and a chair. I finally got my new workout toy in the mail today, but will soon share what it is, but first i need to learn how to handle it my self LOL. After I finished this routine, I also did
Abs Climber
routine, that I shared last week and 10 minutes of regular jump rope skipping.
I made a goal for my self over the next month, and this time I am dead serious! My goal is to create more discipline in my life, not only in my trainings but my whole daily routine overall. Today when I was working out I felt a heavy, 10 lbs more heavier then I'd like to be, and all I could hear in my head is a song for my six pack – " The one that got away " ( Ha Ha Ha, I'm being sarcastic ).
I definitely learned how to listen to my body over the years and right now I don't feel my best. I remember a few years ago, I use to have a discipline of a monk, it was a bit ridiculous at times. I've lost that discipline last year, and over the past 6 month's I feel like I tumbled down the discipline slope completely. It's time for me to get it back! I am going to write a huge post about discipline and how I always get on track when I have to, so stay tuned for that.
Workout Video and Workout Recap are together again, so fast forward for the explanation and beginner variation.
Always perform a good warm up before starting to exercise.
Workout Explanation
This workout is broken down into 2 parts, both parts are interval training.
Part 1
Set your timer for 12 rounds of 2 intervals, 10 seconds rest interval and 45 seconds maximum work, you will go through both exercises for the total of 3 times. There is 2 exercises per side, that means before switching sides you will go through 2 intervals and 2 exercises on one side.
Bulgarian Split Squat ( Don't rush in this exercise, remember quality and proper form is more important than speed )
Step Up & Kick Up ( squeeze the butt on the leg you are standing on as you step up )
Part 2
The timer stays the same. There are 4 exercises and you will go through the routine 3 times.
Squat to Jump Lunge ( Watch your form, don't rush this exercise )
Elevated Legs Reptile ( Keep your leg tight, never dangling )
Toe Lifts ( squeeze your calf as you are rising on your toes )
Chair Bridges ( At the top, squeeze your butt as much as possible, hold for one sec at the top )
My scores
Part 1
Bulgarian Split Squat Right Leg – 14, 13, 12
Step Up & Kick Up Right Leg – 14, 14, 13
Bulgarian Split Squat Left Leg – 14, 14, 13
Step Up & Kick Up Left Leg – 14, 14, 14
Part 2
1) 10, 9, 9
2) 14, 14, 12
3) 14, 14, 14
4) 16, 15, 15
PS – Add me as a friend on Facebook, I always post updates

.