Apr 19, 2012 by Tatianna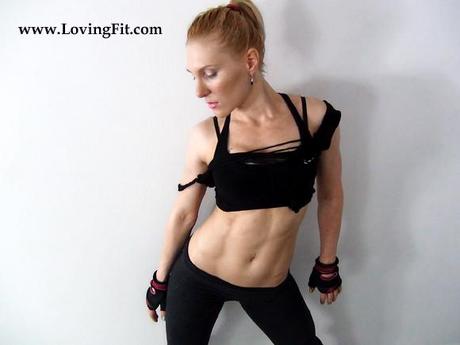 Hello my beautiful lovelies

Today's routine workout routine was focused on the lower body and it was a requested routine with no equipment and bodyweight only

.  Don't fear for your life, it's gonna be tough but very doable

.  This type of routine would be perfect if you are gonna travel and can't bring along any equipment, and sometimes it's just good to switch it up and not use any equipment.
It was on of those very tough days for me, I'm not sure if you can tell in the video or not but I was a bit off my rocker, ( blame it on the gardener LOL ).  Seriously I can't wait for the day till someone invents a quiet tree cutting machine and quiet airplane.  Every few minutes there was a gardner passing by with one of those noise makers followed by an airplane, yep it was that kind of a filming day, LOL.
As always don't forget to do your warm-up, just because this is a bodyweight workout doesn't mean you can be slacking on your warm-up or the proper form.  Proper Exercise Form is always better then speed.
Workout Explanation
Set your timer as a stopwatch, this workout is a circuit training and there is 3 rounds total of the following sequence:
Side Lunge Knee Up & Back Lunge Knee Up – Right Leg – 20 reps ( both count as one rep ) ( Beginners will only do 10 reps )
Side Lunge Knee Up & Back Lunge Knee Up – Left Leg – 20 reps
One Leg Jump Up – Right Leg – 15 reps ( Beginners will only do 5-10 without jumping )
One Leg Jump Up – Left Leg – 15 reps
Shoulder Width Heel Bridges – 30 reps
Full Body Squat & Knee-up – 50 reps ( beginners will do 20 reps )
Wide Heel Bridges – 30 reps
My Time for this workout was 32 minutes and 51 sec.  After the workout I completed 15 minutes of cardio with the skipping rope,  while barely feeling my legs.
 Nutrition Tip -
Today's nutrition tip is a bit controversial not for me but for the dairy companies.  You see cow's dairy doesn't really get's digested by our body, yet the dairy companies big business keeps promoting dairy as a healthy product, but that's very far from the truth.  If your goal is to loose weight then cutting out dairy is the first thing you should do, because just by cutting out all the dairy products in your nutrition will alone help you loose 5 lbs without changing anything else.
PS – I have a very awesome fitness blog that I want you guys to check out, that is full of great fitness info.  It's written by my blogger friend Mitchell.  He recently wrote a free e-book about the advantage of bodyweight exercises, and the coolest thing of all he included one of the exercise that I created " Oblique Climber Jump " into his free e-book for bodyweight only workout program. Make sure you give that a looksie

.
Have fun!