by Nina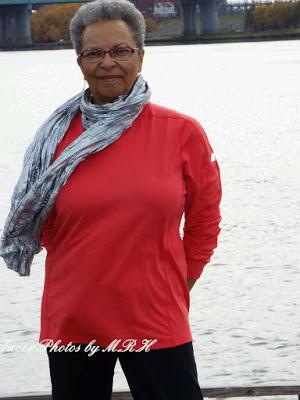 I'm excited to announce that we've invited Beth Gibbs to join our staff and she has accepted. That means you'll be hearing from her regularly from now on, probably once a month. And from now on, she'll write under the name "Beth" and be listed on our About Us page. 
We invited her to join us both because we're big fans of her writing (wasn't Enough so powerful and moving?) and because she has some expertise in areas that we don't due to different yoga training (mudras, certain breath practices, yoga for menopause, etc.). Fortunately our invitation coincided with her New Year's resolution to do more writing. 
Let me tell you a little about her. She told me that she is a lifelong lover of movement and spent the first two and a half decades of her life dancing: tap, ballet, African and modern. She says she can dance to anything except heavy metal, and still dances in her spare time.
Beth started her yoga practice in 1968, six months after her son was born and she's been practicing ever since. She took her yoga teacher training with Joseph Le Page's Integrative Yoga Therapy School in 1995 and her master's degree in Yoga Therapy and Mind/Body Health is from Lesley University in Cambridge, MA. She currently teaches therapeutic yoga classes to children and adults with a specialty in classes for seniors in the Hartford, Connecticut area. She is a senior member of the IYT teaching faculty and directs the school's Professional Yoga Therapist Internship Program. 
After 48 years of full-time work in management and program planning, in broadcasting and a variety of not-for-profit organizations, she is delighted to be "free-tired," and pursuing her passions of yoga and writing. She is also the author of Ogi Bogi, The Elephant Yogi, a therapeutic yoga book for children with a companion manual for adults who work with children, and has produced an introduction to yoga nidra CD titled, "Release, Relax and Let Go." For more information on her work see, www.proyogatherapeutics.com.
Here are all the posts that Beth has done so far for us:
It's Complicated: Moving Toward Equanimity
Enough
Yoga Therapy for Perfectionism
About Mudras for Healthy Aging
Yoga for Menopause: Managing Hot Flashes
Menopause as a Transformative Experience
Subscribe to Yoga for Healthy Aging by Email ° Follow Yoga for Healthy Aging on Facebook ° Join this site with Google Friend Connect